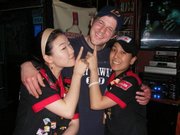 Aaron Wiley, used car salesman, drinks beer, watches "Beverly Hills 90210" and baseball, laughs at hippies
What's the best way to survive Valentine's Day if you're sad, lonely and pathetic like me?
"Booze."
How do you respond to people who say "You've gotta get out there and date" or "There are plenty of fish in the ocean" or "Put down the razor, you have so much to live for"?
"Those people are idiots. Everyone I know who is in a relationship is glum, depressed, and in a general state of dismal unhappiness. Maybe it's because they remember the good old days when they were free to guzzle beer, chase skirt, and fart. No, I consider myself lucky not to be in a relationship. While I am sure there are 'plenty of fish in the ocean' who would wish nothing more than to court a hunk of male meat like me, they will just have to wait—I'm not dating."
Is online dating a curative for lonely hearts, or is it just a more efficient way to get crushed or contract something?
"Online dating is for douche bags. I'm sure when you met Mr. or Ms. Right online they won't end up being a suicidal psychopath who will end up torturing you slowly as they listen to European Goth music. No, really—all those people online are clean-cut, churchgoing successful folk interested in nothing more than a little harmless fun. Really they are."
Tips for stalking that special someone on VD without getting arrested?
"I recommend MySpace or Facebook, which are great new tools for us stalkers. You can send people creepy messages while downloading all of their pictures onto your computer. It will also give you access to all of their friends, potential new victims for your stalking desires."
Is romance dead, or just slowly dying of consumption?
"Was romance ever truly alive?"