Saturday, February 14, 2009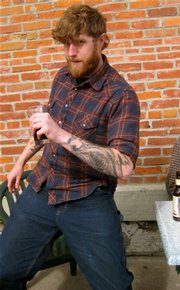 Travis Canaday, burger jockey, anthropologist, archer
How do you save money?
"In a little gilded box under my bed. I should hop on the food-stamp bandwagon like the octuplets mom. I'll have sextuplets just for the tax breaks—or sell them in Mexico. I need to sell my plasma, but I usually end up just giving away my bodily fluids. I'm a philanthropist just like Melinda Gates. I do take advantage of $3 pints at Dempsey's on Wednesdays. I only drink good beer at bars when I can get a deal. Really, to save money, just buy Hamm's. I've quit buying good beer at the liquor store. A 12 pack of Hamm's is usually less than $6."
How do you splurge?
"A 12 pack of Hamm's. Oh, and herbal substances. Oh, and tattoos."