Sunday, February 15, 2009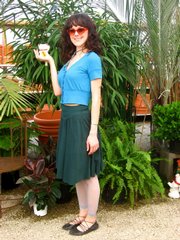 Name: Kristen Kinsch
Age: 27
Sign: Sagittarius
Hometown: Olathe, KS
Time in Lawrence: 7 years
Occupation: Stitcher behind Stitchees (www.stitchees.com) and massage therapist.
What were you doing when scouted? I was selling my Stitchees at my booth at the LOLA Valentine's show.
Favorite places? The Social Service League, ATC, Wild Man Vintage, Goodwill, and Blackbird Trading Post.
How would you describe your style? Mid century-inspired and country bumpkin.
Where do you get your hair cut? Brad at The Green Room.
Favorite trends? High-waisted stuff, prairie skirts and dresses, big earrings, gingham and plaid.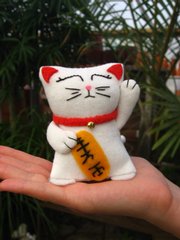 Least favorite trends? Sports garb, but really whatever people want to wear is fine by me.
Tattoos/piercings? I have a butterfly on my upper arm that was done at Mercy Seat in Kansas City by Jason, and a little bird on my collarbone, and an anchor and a swallow for my grandfather that was done by Scott at Mercy Seat.
Favorite coffee shop? I like going to Henry's because they have good mochas and nice baristas. I also like going to The Pig at night.
Favorite bar? I like going to the Jackpot when Rob's working, because he usually plays good movies. I also like hanging out at the Replay, mainly for the patio.
What would you like to see more of in Lawrence? People that support local art, and maybe bike lanes or more bike-friendly people. I'd also like to see an arcade and a skating rink.
What would you like to see less of? Big box stores and cars.
Who are your fashion influences? Cowgirls and housewives.
People say I look like: Bernadette Peters, and other people say that I have a doppelganger here in Lawrence, but I haven't seen her yet.
Tell us a secret: I sleep naked.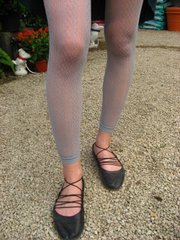 PRICE OF CLOTHING:
Shoes: Rocket Dog, purchased at DSW, 5 years ago for $25
Skirt: American Apparel, purchased at ATC for $8, 1 month ago
Shirt: ATC, purchased for $8, about 4 years ago
Tights: On sale at Old Navy for $2
Modified bandana: Probably around $1
Earrings: Quartz earrings from Early Jewelry, purchased a few months ago for $25
Bracelet: Traded at a clothes swap last winter, free
Sunglasses: Forever 21, purchased last summer for $3
Ring: Horseshoe ring by Early Jewelry, around $34
Stitchee: Custom made Lucky Cat, $26
More like this story on Lawrence.com