Sunday, February 15, 2009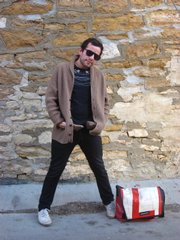 Name: Richard Trinidad Garcia
Age: 29
Sign: Scorpio
Hometown: Kansas City
Time in Lawrence: On and off for 10 years
Occupation: Party planner and manager at Teller's
What were you doing when scouted? Getting a beer with my favorite bartender, Adam Smith.
Favorite places? The levee trail, The Pig, Teller's, Au Marche, and The Green Room.
How would you describe your style? I think of myself as an old man.
Where do you get your hair cut? The Green Room, and Terri cuts my hair.
Favorite trends? Jeans that fit are a plus, no bras under t-shirts, Hangauer chic, old-man sweaters, and heckling.
Least favorite trends? AIDS, cancer, and fusion cuisine.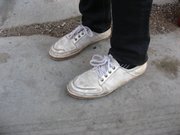 Tattoos/piercings? I have a tattoo of the state of Kansas on my right arm.
Favorite coffee shop? I don't really drink coffee, and when I do, I get it for free at work.
Favorite bar? I like the Tap Room because it smells great, it's intimate, and Jeremy is a sexy man. I also like the Star Bar for their $2 Tap Special, and I like going to Teller's on Monday nights for $6 wine—pretty sweet.
What would you like to see more of in Lawrence? People that give a shit. I'd also like to see more people playing D&D;, more people jogging, a small wine bar, and more people buying art.
What would you like to see less of? Litter—specifically plastic bags, and aggressive panhandling.
Who are your fashion influences? Quadrophenia, Richard Serra, Dan Flavin, and El Anatsui.
My favorite meal of all time is: Squab risotto and a bottle of Cristal.
Tell us a secret: I was raised Catholic and was bored to tears by church, so to get me through the hour, I used to press my palms against my eyes until I put myself in a trance.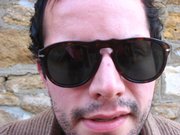 PRICE OF CLOTHING:
Shoes: Tretorn, purchased at American Rag in L.A, 2 years ago for $120
Pants: Acne, purchased in Berlin, 4 1/2 years ago for 120 euros.
T-shirt: Purchased at Star Stylings in Berlin, 4 1/2 years ago for 15 euros.
Sweater: Purchased at Vintage Van's, last year for $12
Glasses: Persol, purchased in Paris last summer for $100
Bag: Freitag, purchased in Paris last summer, really expensive.
More like this story on Lawrence.com