Monday, February 16, 2009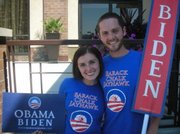 Matt and Adrianne Lehrman, power couple who enjoy running, golfing, camping, traveling, "Lost," politics, and pugs
We're now in the throes of Jayhawk basketball season, which isn't going as swimmingly as last season. If KU doesn't repeat, do you fear a Jonestown-like poisoned Gatorade binge at Allen Fieldhouse? What advice do you have for people going through Post Championship Depression (or PCD)?
Matt: I reject the premise of this question. On February 16 last year, the Jayhawks were 9-2 in the Big 12. February 16 this year, they are 9-1. At the same time, I do fear your suggested conclusion to the season—plenty of poisoned Gatorade flowing freely down Mass St. For those suffering PCD, it never hurt to be a fair weather fan. UNC and UConn both look good this year.
What are some of the traditions/superstitions/ritualistic blood feasts you observe for KU games?
Adrianne: We typically paint our pugs crimson and blue and place them in a box. If they emerge to see their shadow, we can count on a Jayhawk victory!
What's the best way to score tickets to Allen Fieldhouse, besides debasing yourself in a Port-a-John at the Robinson parking lot?
Matt: Since Adrianne is a teacher, it's best to leave the details out. Suffice it to say, we have not missed a home game since '02.
If you can't get tickets through extortion or Cleveland Steamers, where's the best place to watch a game in Lawrence?
Adrianne: Set 'Em Up Jacks. Biggest screen in the country, best crowd, fried okra, sweet potato fries, and zero chance of getting puked on by a frat guy. Plus, every time we've seen the national championship there, we've won—except in '03.
Cole Aldrich's mask—scary sexy or sexy scary?
Matt: See, we think it's fake. Saw him at Dillons on 23rd after the Oklahoma State game and he wasn't even wearing it.
Favorite KU related cocktails? And, yes, PBR counts.
Adrianne: For a win, Irish car bombs. For a tough loss, Irish car bombs.
More like this story on Lawrence.com