Sunday, February 22, 2009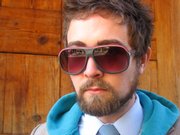 Name: Scott Starrett
Age: 25
Sign: Sagittarius
Hometown: Overland Park
Time in Lawrence: 6 1/2 years
Occupation: Graphic designer at KU, and contributor/graphic designer of The Rathaus.
What were you doing when scouted? Eating lunch at the Eldridge with my family.
Favorite places? The Social Service League, Liberty Hall, The Casbah, Harbour Lights, The Merc, St. John's Rummage House, Wild Man Vintage.
How would you describe your style? Business as usual.
Where do you get your hair cut? I cut it myself.
Favorite trends? Spending less money, the internet, sunshine, layers, scarves, ties, the right pair of shoes, confidence, and shifty vernacular.
Least favorite trends? High fructose corn syrup.
Favorite coffee shop? I like Henry's and La Prima Tazza. They both have good environments and good people that hang out there, and at La Prima Tazza people are always really studious and working on something important.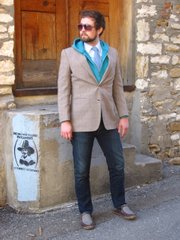 Favorite bar? Harbour Lights, because they have foosball and darts, and good employees.
What would you like to see more of in Lawrence? Smiles, nods, high-fives, moon walks, collaborations, and more financial support for art programs in Lawrence schools.
What would you like to see less of? Drinking and driving, and snubbing. Overall, I think Lawrence is a pretty great place.
Who are your fashion influences? I think Paul Newman is pretty stylish. I also get a lot of inspiration from things I see on the internet, like random people's tumblr pages, The Sartorialist, and ffffound.com.
People say I look like: Scott Johnson, Ryan Gosling, and Justin Timberlake.
What's in your man-bag?: My laptop, "How We Decide" by Jonah Lehrer, Sigg water bottle, chapstick from The Casbah, a bike LED light, Spry gum, flash drives, and a condom.
Tell us a secret: I am micro-tactile phobic.
PRICE OF CLOTHING:
Shoes: J Shoes, purchased off of the internet, 1 year ago for $70
Pants: Levis 511s, purchased at JC Penney, 1 1/2 years ago for $40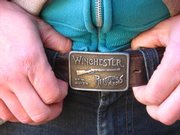 Belt: From Chucks Boots, a present from my dad when I was 6
Blazer: St. John's Rummage House, $3, 1 year ago
Hoodie: ATC, 3 weeks ago for $8
Tie: St. John's Rummage House, 50 cents, a few weeks ago
Shirt: St. John's Rummage House, 75 cents, a few weeks ago
Man-bag: Samsonite, purchased at the Social Service League, for $1
More like this story on Lawrence.com