Sunday, February 22, 2009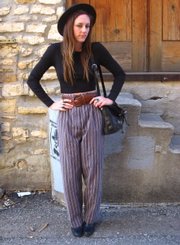 Name: Tricia Rock
Age: 25
Sign: Taurus
Hometown: Olathe
Time in Lawrence: 7 years
Occupation: Bookkeeper at Office Helpline and writer/editor for The Rathaus.
What were you doing when scouted? Browsing at the Antique Mall.
Favorite places? The Rathaus, Social Service League, Lawrence Public Library, The Antique Mall, Antique Bazaar, Wild Man Vintage, ATC, Beyond the Door, and the Casbah Market.
How would you describe your style? Weird. I love trying new things and can't get out of the house without at least one item that people are going to look at and say, "What was she thinking?"
Where do you get your hair cut? I cut it myself, or I go to Andiy at Static.
Favorite trends? Light denim, crop tops, big shoulders, structured and geometric tailoring, bandage dresses, boy pants for girls, baggy/slouchy fit shirts and pants, crazy chunky wedge and heeled ankle boots.
Least favorite trends? Unoriginality.
Favorite coffee shop? Henry's.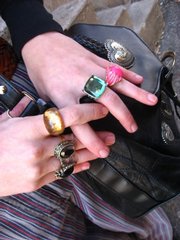 Favorite bar? Harbour Lights.
What would you like to see more of in Lawrence? More people reading The Rathaus.
What would you like to see less of in Lawrence? Less people holding grudges.
Who are your fashion influences? I love drawing inspiration from film, mainly older foreign films. The idea of fashion as the art of costuming motivates me to think outside the box and dress myself as a different character each day. I'm really inspired by people who take risks, like Lou Doillon, Mary Kate Olsen, Erin Wasson, and Alice Dellal. Also, as a blogger myself, I am a little obsessed with the fashion blogging world. The constant updates from such a variety of contributors has really inspired the fashion world, and turned it on it's head, where now trends are not solely controlled by the corporate monopoly of fashion magazines.
What's in your purse? I am a very organized person, and I like to have everything that I could possibly need with my at all times, so the list would be way too long.
Tell us a secret: Talking about myself makes me very nervous.
PRICE OF CLOTHING:
Shoes: Payless, purchased 2 months ago for $25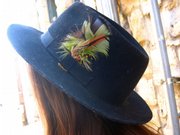 Pants: Social Service League, purchased yesterday for $1
Belt: ATC, purchased 2 years ago for $12
Self-modified shirt: Purchased at ATC, 2 years ago for $7
Hat: ATC, purchased a few years ago for $10
Rings: Half are from the Antique Mall, half are from Target, and all were between $3-5.
Purse: ATC, purchased 1 month ago for $16.50
More like this story on Lawrence.com