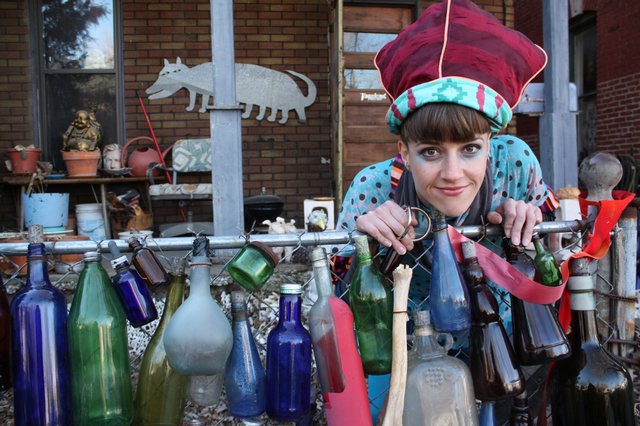 Monday, February 23, 2009
Walking into Ari Fish's Westside studio —through a fence bedazzled with tons of blue glass bottles—it's impossible not to be immediately taken by the 120-pound Irish Wolfhound.
But Atlas, despite outweighing his owner, quickly blends in to Fish's home and workspace—in a way not unlike her ability to incorporate big, disassociated ideas into her clothing design. As Tim Gunn might say, she makes it work.
Fish's unconventional approach to design may stem in part from it being a relatively new avenue for the artist. After finishing ceramics studies at the Kansas City Art Institute, Fish was convinced in 2007 by some friends to try her hand at being a part of KC's eclectic 18th Street Fashion Show.
"I had no idea what I was doing," she says, "I didn't have a ceramics studio and all that I was doing at the time was drawing. So I chose my models and was like, ok, what would they want to wear? How do I want them to look? What potential can we harness here as far as image goes?"
She tailored five menswear looks in a gradient from white down to black. When the models walked at the show she found a new satisfaction in her efforts: "It didn't feel good for me to dress them—it felt good to see their reaction. These people had never walked in front of thousands of people before. They could just suddenly do it without being nervous…
"How clothing design affects the body and the mind is incredible."
Fish received commissions based on her first showing at 18th Street and making clothing has been a focus of hers since. She has come to view the clothing she makes as a type of "tough" armor—her desire is for the wearer to feel powerful (but still comfortable) by playing with the line of what is acceptable and not acceptable to wear every day.
Her creations are not anything you'd find in an average clothing store—her interests lie more in nudging those wearing her designs toward "the idea of wearing something that is not bizarre but is pushing the boundaries every day. Wearing something like that I think can really change your attitude slowly and gradually." And Fish takes it to heart—particularly in airports, she enjoys donning one of her designs, plus a couple of pairs of false eyelashes made from feathers. "I look insane," she says.
The most recent umbrella for her work is Native America Clothing. The looks range widely, from an almost military-style Tunic made of woven nylon strips complete with zipped sides, to denim jackets and pants created out of hundreds of triangle cutouts. Her work features a lot of stitched details over compounded layers of fabric, but the garments avoid the appearance of being overworked or heavy.
All that attention to detail often doesn't always exact a huge toll time-wise on the designer either—once she figured out the design, her recent denim pieces have only taken between two and six hours each to complete. Not everything can be done at such breakneck speed though—others, such as the woven nylon garment have taken as many as 30 hours.
Fish attributes her industriousness to her time spent in school, which required a constant stream of production. "I strongly, strongly believe in the Art Institute. The idea of working in studio is firmly ingrained. I don't think at all that I would have the work ethic to do what I do now without it," she says.
Currently Fish is working out of her apartment, one room of which has the appearance of a work studio, complete with shelves of fabric, sewing machines and clothing racks, and the other a regular living space, complete with the huge dog.
About having a separate studio, she says, "I get too distracted. I will always have a studio in my living space. It's good to treat your work like a job if you need to keep your studio time in check, but I think it's bad when you have to go to the studio. It should be a blessing."
She plans to open an online store next month where will be offering wares such as wallets and hats, as well as individual pieces that will be uploaded each week to encourage return traffic.
As that gets off the ground and she expands her line, there are no plans of leaving the area. Of KC she says, "It's a really good city to do artwork in, too, because it's not so distracting. I think it's because no matter where I go I never find people with the same intellect or interest. I think it's mainly the people that keep me here. I think it's really supportive."
Fellow local clothing designer and artist Peggy Noland echoes that sentiment: KC "is active, and very youth-oriented for the most part. We live in a town that loves fashion shows and loves supporting young people. I think it's a great place for any creative young person."
Noland is proof that success in the industry is definitely possible, even in Kansas City. Her handiwork has been worn onstage by CSS and Tilly and the Wall, as well as by local act the SSION. She's also been featured in several magazines including Elle and NYLON.
Noland teaches a sewing construction class at the Art Institute, and has operated her own store in the Crossroads district for the last two years, as well as a web store. Her success online and with international customers is enabling her to expand and open a new physical store—in Berlin. The site has been chosen and it should be operational in a few months.
She recently began carrying Fish's line in her store in KC.
"I think the reason it stands out is that it doesn't fit into Kansas City's design scene," she says. "She has a very avant-garde, more worldly approach to her construction and her design techniques. It's not what people are used to seeing around here."
Though Fish is currently focusing on clothing design, she talks a lot about her interests in sustainability projects, travel, and other art mediums. But as for today, creating the clothing she loves in her chosen environment—Atlas and all—is where it's at.