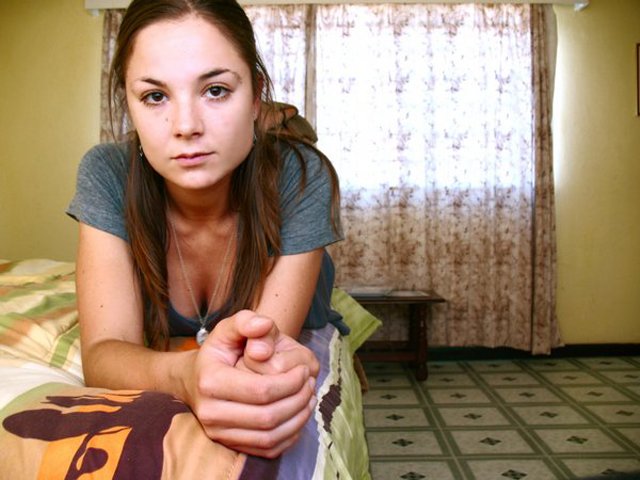 Monday, February 23, 2009
Podcast episode
Margo May writes some damn catchy tunes, but she's hardly the sort of artist you'd imagine as a pop diva. That's why the Kansas City songwriter's recent run through the American Idol gauntlet seemed so improbable. Imagine Cat Power singing "I Will Always Love You" for Simon Cowell and Paula ...
Margo May writes some damn catchy tunes, but she's hardly the sort of artist you'd imagine as a pop diva. That's why the Kansas City songwriter's recent run through the American Idol gauntlet seemed so improbable. Imagine Cat Power singing "I Will Always Love You" for Simon Cowell and Paula Abdul – yeah, something like that.
When the 22-year-old singer finally got cut in Hollywood, order was restored to the universe and May returned to her erstwhile existence as a locally loved singer-songwriter. With her band the Honeybabes, May pens tunes that are memorable for all the right reasons: strong melodies, sincere lyrics, and crafty hooks. Folks who knew her during her K-State days will appreciate the arc of her development from folkie to barnstorming bandleader.
This spring, May and her band will hit the studio to make their first proper album. She visited with us to share her surreal American Idol experience and preview some new tunes that the Honeybabes have been cooking up. Pianist Grant Buell joined in to tickle his ivories and offer some piquant commentary.
No-fi highlights from the podcast
lawrence.com: How did the American Idol thing come about? What inspired you to tryout?
May: I decided to try out the day I got back from a trip. I didn't even tell anybody – I just went down there and tried out. I was super embarrassed. I was scared I was going to see someone there that I knew. I wanted to do it just to see what happened.
Album Mp3s

Demos
The way it works is you have to make it through a series of rounds, so making it through the first round was not a big deal – like 2,000 people made it. I went back a month later to a hotel in downtown Kansas City and at that one they cut down from 2,000 to 45 people ... I made it through that round and that's when I was like, "OK, this is fun. I get to meet Simon and the whole cast."
I made it to Hollywood ... But then I got cut in the second or third round – I can't remember exactly. They never showed me on TV.
Did you perform in a situation that could have been on TV?
May: Yeah, they were filming all the time. The producers told me, "You know Margo, we know you're different, and there's a chance that if you don't cry or scream, they're not going to show you." I was cool with that, because I didn't want to cry or make a scene just to be on TV. That's just what reality TV is: they encourage you to cry, and they encourage you to be dramatic. They're like, "If you're going to cry, just let it out." Then they put a camera in your face and let you go.
When I made it (through the qualifying round), they were trying to get me to jump up and down and scream. I was tired and I was like, "I don't want to." I could tell that they were like, "This girl is just a mess."
Buell: They showed you coming through the door and all that (on TV).
May: They were like, "Ok, now say – 'I'm going to Hollywood!'" I was like, "I don't feel comfortable doing that." I had to have my friend do it for me. She was like, "Margo's going to Hollywood!"
Buell: And they showed that.
May: If you scream, it gets shown ... She's a really cute girl, so I think that's why they showed it. The funniest part is that I had so many people come up to me and say, "I saw that your friend Rachel made it to Hollywood." I was like, "No, it was me!"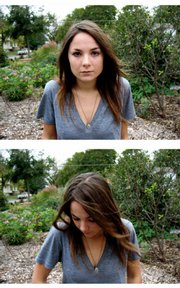 It's ok, because it was fun getting to talk to Simon. He was the only one that liked me. Every round that I sang, Paula and Randy (Jackson) were so confused by me. You're allowed to sing what you want, so in the first round I sang "Leavin' On A Jet Plane" and they all liked it. When I went to Hollywood, I sang Elliott Smith in the practice room and that didn't go over well. One of the producers of the show lived in L.A. and knew (Elliott), so she was really touched. But she was like, "You can't sing that ... People will be confused." So then I sang Death Cab for Cutie's "I Will Follow You Into the Dark," and they didn't know it! Simon knew it, because he knows a lot about music, but Paula and Randy didn't know it. They didn't even know who the band was. How can you be working in Hollywood and not know Death Cab for Cutie? He's marrying Zoey Deschanel!
The next round was a group round and we sang a Fleetwood Mac song. You had to pick from a list of 10, and that was the best choice. We were awful. It was like a train wreck, and we all got cut. No one in my group got shown on TV.
It was really fun, but a part of me thinks you get cut if you sing something that they don't know.
Is there a part of you that regrets not singing Britney Spears?
May: Yeah, because there's a lot of good pop music out there if you search for it ... It's so surreal watching the show now, because I know all the people on it. Part of me wishes I could still be there, because I really love singing. But part of me thinks I'd feel really torn. You have to sign a contract to be on their label, which isn't always great. I talked to some of the producers and one of the contestants is in debt now because he couldn't sell his image. You can make a lot of money and then lose it all. It's such a weird industry.
And then you end up in Vegas or Branson.
May: Actually, Vegas would be kind of cool. Barry Manilow came and gave us a vocal lesson. He was actually really talented and nice. He played that song "Mandy." It's a good song! I was kind of impressed.
How did you and Grant start playing together?
May: We met at K-State a few years ago.
I'm sorry. Zing!
Buell: I'm not sorry.
May: I loved Manhattan. It's beautiful. There was lots of good music there too.
Buell: It's just the less pretentious Lawrence.
What brought you back to Kansas City?
May: Manhattan had a very small music scene – probably like 20 people max ... At least in the scene we were involved with.
Not counting butt-rockers.
May: Or people that played in the orchestra or something ... Everyone graduated and moved on, so it was hard to sustain.
Buell: It was the Golden Age of Manhattan folk pop.
May: The new music we've been writing is a lot more poppy and less folky. In Manhattan it was hard to write. All my melodies were a little bit sad and melancholy. That's what happens when you live in a really isolated place.
Buell (joking): Her songs were about being the only one not going to football games.
May: I think my writing is the most inspired when I'm traveling ... I recently went to New York and I got a lot of ideas. But it was mainly cheesy poppy stuff that sounded like Sheryl Crow meets The Cardigans.
I really do like pop music. When I went to Hollywood for American Idol, that's all people listened to. No one who was in that hotel with me knew anything about folk music. I never had really listened to rap or R&B;, so it was kind of fun getting to hear all that stuff. I met a lot of girls who were borderline interested in what I was all about, but also borderline confused.


More like this story on Lawrence.com