Thursday, February 26, 2009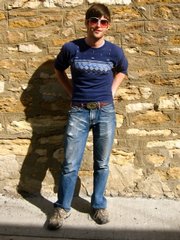 Name: Andrew Witt (a.k.a. Headbandrew)
Age: 25
Sign: Pisces
Hometown: Kansas City
Time in Lawrence: 6 years
Occupation: DJ for proms, mixers, junior-high dances, and weddings.
What were you doing when scouted? Discussing affairs, catching some rays and caffeinating.
Favorite places? The Bourgeois Pig, The Outhouse, Wild Man Vintage, Global Cafe, and artocrats.com.
How would you describe your style? Active, heart on sleeve.
Where do you get your hair cut? I'm in the market for a new stylist since my previous ones have moved away.
Favorite trends? Rachel Monger's style, Wayfarers, bicycles, collared shirts, leather gloves, tiny shorts, headbands, and sleeveless.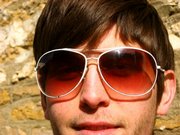 Least favorite trends? LA style, Ed Hardy stuff, and libertarians.
Tattoos/piercings? I have one tattoo that was done by hand in Thailand.
Favorite coffee shop? I like the Pig, because it is the best place to meet young singles and there's usually an eclectic crowd.
Favorite bar? I like the Taproom for Ricky's Pims and sodas and the tiny bathrooms downstairs, and I also like the Jazzhaus because they have really good bartenders.
What would you like to see more of in Lawrence? Wind turbines, alley dice games, and community art. I'd also like to see more people on Twitter. Shout out to all of my tweeps!
What would you like to see less of? Bad drivers and West Lawrence.
Who are your fashion influences? Steve McQueen and Tom Selleck.
People say I look like: Tom Cruise as Kevin Bacon in "Footloose."
Tell us a secret: I shot a man in Reno, just to watch him die.
PRICE OF CLOTHING: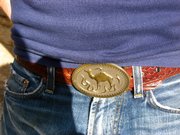 Shoes: Northface, from the bargain den at Cabela's, 6 months ago for $20
Jeans: Big Star, purchased online, 1 year ago for $40
Shirt: From ATC, purchased 4 years ago for $14
Sunglasses: Stolen from my sister, they're from Forever 21
Belt: RJ Reynolds Camel belt, free, I've had it for 3 years
Friendship bracelet: I made it for myself.
More like this story on Lawrence.com