Thursday, February 26, 2009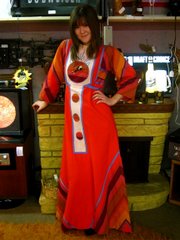 Name: Jennifer Hunt
Age: 21
Sign: Libra
Hometown: Lawrence
Occupation: Textiles student at KU.
What were you doing when scouted? Hanging out downtown with friends.
Favorite places? Dirty Dillons and Aimee's. I spend a lot of time at home by myself.
How would you describe your style? I typically wear all black with gold hardware, but I was feeling like being a little bit different today.
Where do you get your hair cut? The Fixx.
Favorite trends? I've been into the '90s flashback look lately ... velvet and lace, pink & purple floral dresses. I also like gold necklaces, hats, fur, and gold flourishes.
Least favorite trends? Corporate hippie/bohemian done by Urban Outfitters.
Tattoos/piercings? I have a stick figure that was done by my friend in art school in our dorm room.
Favorite coffee shop? I go to the Pig the most, even though I feel awkward and don't know enough people there. I also like La Prima Tazza.
Favorite bar? I like going to the Tap Room for the pool table and for dancing. I also like going to The Pool Room.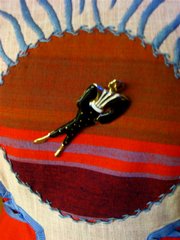 What would you like to see more of in Lawrence? I'd like to see more diverse activities for people to do, more street performers, and more chalk art.
What would you like to see less of? Police officers tailing drivers on Tennessee Street and generally intimidating people.
Who are your fashion influences? A cross between a witch and a cat. I'm also really influenced by urban/big city styles, not to be confused with Urban Outfitters.
People say I look like: A stone cold fox
Tell us a secret: In first grade, I peed my pants at the Putt Putt Golf place in Lawrence.
PRICE OF CLOTHING:
Shoes: DSW, purchased a few years ago for $30
Pin: Antique Mall, purchased today for $3
Dress: Antique Mall, $29.50
More like this story on Lawrence.com