Friday, February 27, 2009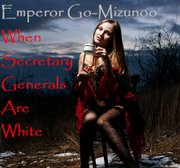 Here's a useful meme to generate not only your band name, but your first album cover! It's kind of like Making Your Porn Name 2.0. Commence with the time suckage!
1 - Go to Wikipedia, hit "Random Article."
The first random Wikipedia article you get is the name of your band.
2 - Go to The Quotations Page, hit "Random Quotes."
The last four or five words of the very last quote of the page is the title of your first album.
3 - Go to Flickr and click on "Explore the last 7 days."
Third picture, no matter what it is, will be your album cover.
4 - Use Photoshop/MS Paint or similar to put it all together.
5 - Host it and post it the comments, mother hubbards!
My band is Emperor Go-Mizunoo and our first album is "When Secretary Generals Are White." We've kind of got an early '90s, Better Than Ezra/Toad the Wet Sprocket/Gin Blossoms alterna-pop vibe. Only with more auto-tune.