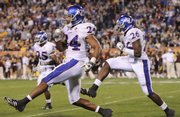 BOWL LOTTA LOVE
KU won their second bowl game in a row, trouncing the University of Minnesota 42-21 on New Year's Eve in the Insight Bowl.*…Jayhawks Coach Mark Mangino said he was honored to win the Insight Bowl and that he "still has no f*cking idea what the hell it is exactly that Insight does."
THE SOUND AND THE SLURRY
A rural Tennessee reservoir filled with waste ash from a coal-fired electricity plant burst late last month, dumping over a billion gallons of toxic slurry into local communities and waterways in one of the worst ecological disasters in U.S. history. The full extent of the damage is still undetermined, but initial tests indicate rivers in the area contain arsenic levels up to 300 times the recommended level for safe drinking water.*…In related news, Clean Coal Technology was recently spotted scampering through the woods alongside Bigfoot and a Beatles reunion.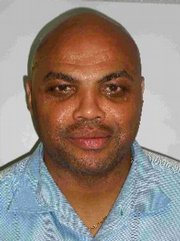 SUCK AND CHUCK
Basketball legend Charles Barkley was arrested last week for drunk driving in Arizona. Barkley was with a woman at the time and, according to the police report, "(Barkley) said, 'I was gonna drive around the corner and get a b**w job. He then explained that she had given him a 'b**w job' one week earlier and said it was the best one he had ever had in his life."*…The former NBA star was charged with drunk driving and his companion was charged with double dribbling.
SAME SHIVA, DIFFERENT YEAR
Following rocket attacks by Hamas into their territory, Israel has launched a massive military assault into Gaza. Growing Palestinian civilian casualties have led to increased pressure from the international community for Israel to reach a cease fire, but Israel has provided no indication they intend to scale back their incursion.*…Long time observers of Middle East affairs say the Hebrew word for "flare up in violence during an intractable clash of culture and religion," roughly translated, is "Tuesdays."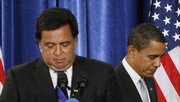 BITCHIN' CABINET: THE TRANSITIONING
New Mexico Governor Bill Richardson has withdrawn his name for consideration as Barack Obama's Commerce Secretary, citing an ongoing "pay-to-play" investigation of a state contract awarded to one of Richardson's political contributors.*…Richardson also said he wanted to spend more time with his estranged beard.
BLAGO BLOTTER
Embattled Illinois Governor Rod Blagojevich—who was arrested and charged with multiple counts of corruption last month—shocked the political establishment by naming former Illinois Attorney General Roland Burris to fill Barack Obama's vacant Senate seat, despite threats from Senate Democrats they would not seat anyone appointed by the governor. Senate Leader Harry Reid said Burris is a "tainted appointment."*…In a Capitol Hill press conference, Senate Republicans denounced the treatment of Burris. "All this talk about taint has got me really worked up," said an excitable Larry Craig. Republicans then rushed Craig away from the microphone.
THE DORK HORSE
The Minnesota Secretary of State has certified Al Franken the winner of his long contested Senate race, defeating incumbent Senator Norm Coleman by just 225 votes. Coleman has vowed to challenge the results of the recount in court, but most analysts say the courts are likely to side with Franken.*…Franken supporters defended the former "Saturday Night Live" star against charges he's nothing but a comedian, arguing you have to be funny to be considered a comedian.
More like this story on Lawrence.com