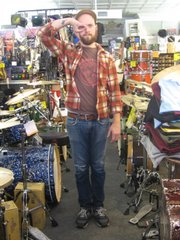 Name: John Momberg
Age: 26
Sign: Pisces
Hometown: Lawrence/Chicago
Time in Lawrence: 13 years
Occupation: Harbour Lights door man/bartender, Supersonic Music, drummer for The Dactyls and The Appleseed Cast.
What were you doing when scouted? Getting my daily caffeine intake.
Favorite places? Aimee's, since I work next door, Love Garden, and Lawrence Public Library for the great selection of movies.
How would you describe your style? Function over form.
Where do you get your hair cut? My kitchen, and I cut it myself.
Favorite trends? Found objects, flannel, and good hats. For girls, I like knitted scarves and unique earrings.
Least favorite trends? No facial hair on guys, and I really get annoyed when people don't wear jackets when its cold, I see that all the time at the bar when I'm working the door.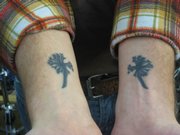 Tattoos/piercings? I have many tattoos; dandelions on my wrists, a windmill and a blank face on my arms, Arabic on my stomach, all which were done by Carlos at Big Daddy's. I also have plugs.
Favorite coffee shop? Aimee's, for sure, and mainly for their vegetarian biscuits and gravy. I think at least 3% of my body is made of biscuits & gravy. I also work nearby, and have to get a soy latte every day.
Favorite bar? Harbour Lights is clearly the number one choice, for having the best jukebox and the best beer selection in town. I also like the Taproom, because I love Jeremy Sidener.
What would you like to see more of in Lawrence? I'd like to see more homeless shelters, more house shows, and more vegetarian options in restaurants.
What would you like to see less of? Amateur hour at the bar.
Who are your fashion influences? Kyle Sheline, O-Face, Miles of Smiles, and Ken Pingleterry.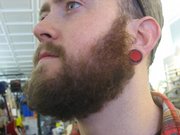 People say I look like: Before I had a beard, people said I looked like Edward Norton. My girlfriend Rica's mom thinks I look like a lumberjack.
Tell us a secret: 1492 was an inside job.
PRICE OF CLOTHING:
shoes: Saucony, purchased at Shark's, last March for $40
jeans: Levis, purchased 1 1/2 years ago for $9.99
belt: my roommate's belt, free
shirt: Ad Astra Per Aspera band t-shirt, purchased for $10 at one of their shows
flannel shirt: Wildman Vintage, 1 year ago fo $15
hat: Urban Oufitters, purchased 3 years ago for $1
plugs: Third Planet, a gift from Meagan who works there
coat: Triple 5 Soul, purchased at Urban Outfitters last year for $1
beard: been growing it out for 3 months now.