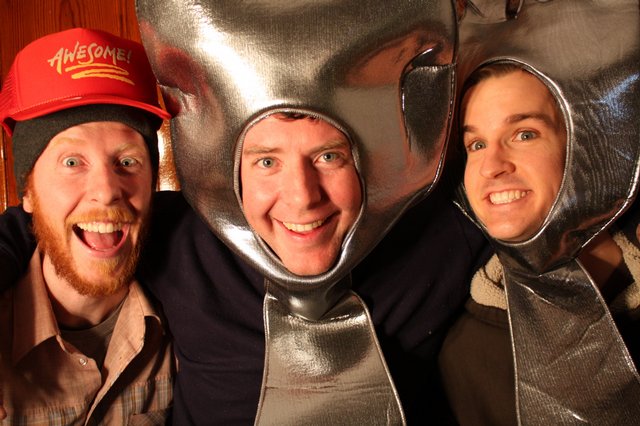 Thursday, January 8, 2009
Podcast episode
A podcast interview with the Kansas City Bear Fighters featuring seven (and a half!) dandy live recordings. A must listen.
The Kansas City Bear Fighters are often mistaken for a bluegrass band on account of their instruments: acoustic guitar, upright bass, tenor banjo and ukulele. But once Quinn McCue, Sean McCue and Mark Johnson start getting rowdy, it's clear these guys have an entirely different agenda. Penning tunes about cybermen and apocalyptic repopulation, the group's sense of humor is bellied by a Depression-era sound rooted in early jazz, hokum, ragtime and Hawaiian music. Quinn's high-register voice is a perfect fit for the group's goodtime mojo, which you might want to consider enlisting for your next luau or backyard barbecue.
Since The Bear Fighters are such a spontaneous bunch, we figured we'd just throw a microphone in front of them and see what happens. The result: seven-and-a-half songs and enough blue humor to make Johnny Carson wet his proverbial trousers.
More like this story on Lawrence.com