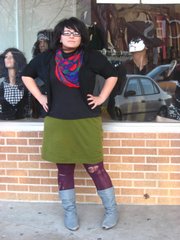 Name: Arianne Cordray
Age: 22
Sign: Gemini
Hometown: Kansas City
Time in Lawrence: 2 1/2 years
Occupation: Retail snob
What were you doing when scouted? Arts & Crafts.
Favorite places? Wild Territory, ATC, Wildman Vintage, and The Casbah Market.
How would you describe your style? A little kid that dresses themself.
Where do you get your hair cut? I cut my own hair
Favorite trends? Boots, big scarves, crazy colored tights, bright colors, ugly chic, and wearing black t-shirts every day!!
Least favorite trends? Leggings as pants, scantily clad women in the winter, and looking sloppy.
Tattoos/piercings? I have a lip piercing and plugs. Eventually I want to get a tattoo, but I can't decide on what I want done.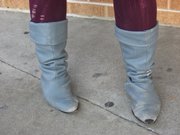 Favorite coffee shop? I like Henry's and La Prima Tazza. They both have good baristas, and I like going to Henry's because I always see someone I know.
Favorite bar? I like The Taproom because they have the best bartenders in town, and The Replay always has good shows. I also like going to Harbour Lights to play pool.
What would you like to see more of in Lawrence? I'd really like to see an arcade in town. Also, bike lanes on major streets, more local entrepreneurs, and more roller bladers-- for fun and fitness.
What would you like to see less of? Pedestrian/driver conflict, parking tickets, and it would be nice to have fewer drunken, yelling idiots.
Who are your fashion influences? My friends, people that I see when I'm working at ATC, librarians, and rap video girls.
What's in your purse? A Biggie Smalls t-shirt, the Mulan Special Edition DVD, about a half dozen parking tickets, a pair of socks, a can of chicken broth, allergy medicine, my wallet.
Tell us a secret: Pizza Lunchables are my favorite food in the world.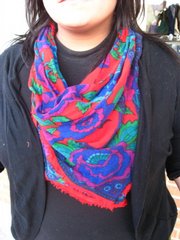 PRICE OF CLOTHING:
Boots: Steve Madden, purchased at TJ Maxx last winter for $5
Tights: Target, purchased 3 months ago for $5.99
Skirt: ATC, purchased last week for $7.50
Cardigan: Molly & Mia, purchased at ATC, 2 weeks ago for $11
T-shirt: Purchased at Michael's, 1 year ago for $3.50
Scarf: From ATC, about 3 months ago for $5
Glasses: Purchased at Lens Crafters, 3 years ago
Gauges: Purchased online, last year for $30