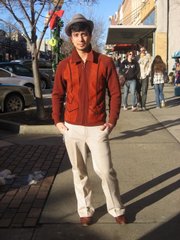 Name: Dan Komiya-Fakhrai
Age: 21
Sign: Libra
Hometown: Japan/Topeka
Time in Lawrence: 3 years
Occupation: Lead student assistant at the KU Bursar's Office, student at KU
What were you doing when scouted? Shopping on Mass St.
Favorite places? Wildman Vintage, Pachamama's, the Taproom, NEON at the Bottleneck, and Ten.
How would you describe your style? I don't really know how to describe my style, it changes depending on my mood each day.
Where do you get your hair cut? My friends cut my hair for free.
Favorite trends? I'm definitely feeling the fanny pack. I like fitted clothes, wearing bandanas on the head, hand accessories, and old-timey, vintage-feeling clothes.
Least favorite trends? I'm sick of the whole Greek life style ... sorority chic. I also don't like when girls wear clothes that are too tight.
Favorite coffee shop? I like The Pig for the atmosphere and the baristas are really friendly.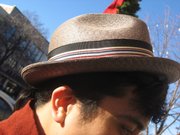 Favorite bar? Again, the Pig is has a great vibe for hanging out with friends. I also like going to the Taproom so I can dance.
What would you like to see more of in Lawrence? More dancing! It would be nice to have a good place to get Korean barbeque, and more restaurants in general. There definitely needs to be more places to sing karaoke, and maybe some more vintage clothing stores.
What would you like to see less of? Anything & everything that is overpriced, and less pretention.
Who are your fashion influences? My friends are a big influence, so is Wild Man Vintage because I get a lot of my clothes there. My brother influenced me, and gave me a lot of his old clothes.
People say i look like: Prince. Or Dr. Tran.
Tell us a secret: I have many secrets, but most of them aren't printable.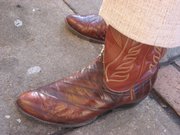 PRICE OF CLOTHING:
Boots: Tony Lama, purchased today at Wildman Vintage for $26
Pants: Wildman Vintage, around $13
Jacket: Montgomery Ward, also from Wildman Vintage, $14, purchased today
Hat: Stevens, purchased at Antique Bazaar II for $16
Fannypack: Wildman Vintage, 6 months ago for $19