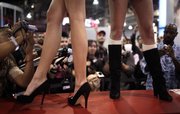 LIMP ECONOMY
With unemployment reaching 7.2% last week, reaching as high as 13.5% if discouraged and underemployed workers are factored in, even the adult entertainment industry is struggling. Porno kingpin Larry Flynt is asked Congress last week for a $5 billion bailout to "rejuvenate the sexual appetite of America." *…The porno industry has been hit so hard that construction work on Jenna Jameson had to be suspended, "Non Stop Anal Action" has been reduced to "Part Time Anal Action," and Ron Jeremy had to be put down.
PRETTY GROSS MISCONDUCT
Lawrence resident Richard McNett was sentenced last week to 6 1/2 years in prison after admitting to possessing nearly 14,000 images of child pornography on his computer. *…When he was informed that he's no longer Lawrence's most famous pervert, William S. Burroughs spun repeatedly in his coffin that's shaped like a penis with centipede legs.
BITCHIN' CABINET: THE TRANSITIONING
Barack Obama faced pushback from fellow Democrats last week over his rumored consideration of Sanjay Gupta for Surgeon General. Gupta, criticized for his lack of political experience and a public feud with Michael Moore, is a practicing neurosurgeon and frequent CNN contributor. *…Obama also caught heat for considering Nancy Grace as the new Missing White Baby Czar.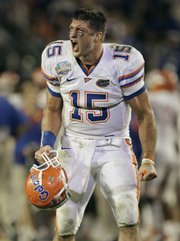 BOWL OF SHIT
Florida defeated Oklahoma in the Bowl Championship Series title game last week, but controversy still surrounded the BCS method for selecting its finalists, as college football teams with better records were shut out. Even Barack Obama has weighed in, saying the complicated BCS process of using computers and polls should be scrapped in favor of playoffs. *…Obama said the only system more confusing, archaic and undemocratic is the Electoral College. Added the President-elect, "And don't even get me started about caucuses."
BLAGO BLOTTER
The Illinois State House impeached Governor Rod Blagojevich last week by a vote of 114 to 1. The fate of the scandal-plagued governor now rests in the Illinois Senate, where he will be tried on accusations of corruption. Roland Burris, Blagojevich's pick to replace Barack Obama in the Senate—despite being turned away from the Congressional swearing-in ceremony last week—will be seated this week by Democratic leaders who are hoping to put an end to the ongoing drama.*…Considering the luck he had in forcing the U.S. Senate to accept his appointment, Rod Blagojevich doubled down and has appointed Roland Burris to be the next Rod Blagojevich
DISS ROBE
Governor Kathleen Sebelius named Shawnee attorney Dan Biles to the Kansas Supreme Court last week. Kansas Republicans accused Sebelius of cronyism in the pick, citing Biles' close relationship to both the Chair of the Kansas Democratic Party and Sebelius' husband. *…Republicans claim to have tapes of Sebelius discussing the appointment, saying of the open seat "this thing is f*cking golden and I'm just not giving it up for f*cking nothing" and that she won't give "this mother-f*cker (Republican leader Kris Kobach) his judge. F*ck him. For nothing? F*ck him."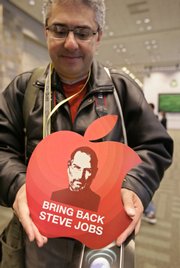 illTUNES
Despite the announcement of new pricing tiers for iTunes—with songs now available for as little as .69 cents—Apple's Macworld presentation was overshadowed by rumors surrounding the health of Apple CEO Steve Jobs, who had been looking increasingly ill in recent months. Jobs himself dispelled the pernicious rumor he had died, announcing he was merely suffering from a treatable "hormone imbalance." *…Jobs also announced that he and Jeremy Piven were forming a new charity, Diseases for Whiny Rich Guys Without Borders.
GOLD DIGGERS
The Golden Globes gave top honors to "Slumdog Millionaire" this year, awarding the film about a Mumbai orphan who who becomes a game show phenomenon with Best Picture and Best Director, and Heath Ledger posthumously won Best Supporting Actor for his performance as the Joker in "The Dark Knight." *…There were frequent sightings on the red carpet of what witnesses described as the ghost of Heath Ledger, cackling and in hideous clown makeup, but it turned out it was just Kathy Griffin.