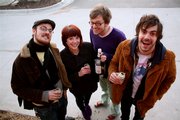 You know a band takes its press junkets seriously when it packs a handle of Jim Beam and a twelver of Hamm's. Lawrence's Rooftop Vigilantes pounded portions of its ginmill in our company parking lot before venturing into our podcast studio, so we were plenty confident we'd catch them at their loosest. Sure enough, they felt compelled to call a couple hours later to specifically request the removal of certain too-hot-for-TV portions of the ensuing interview.
What survived the cutting-room floor is a nonetheless gamey portrait of the artist as a young band. From the Vigilantes' humble beginnings as the opening act for Alkaline Trio to their upcoming six-week tour, the group has met every challenge with a raised shot glass and a grammatically challenged song title (i.e. "Charley Want Mario Chalmers"). They probably were drunk the night they decided to book a cross-country tour in the middle of winter, but it's that kind of chutzpah that will get them straight to the top. Well, maybe not straight to the top – more likely it will be a sort of woozy, asymmetric line – but definitely they'll end up somewhere better than a stranger's porch on a Sunday morning.
Podcast episode
You know a band takes its press junkets seriously when it packs a handle of Jim Beam and a twelver of Hamm's.
Members Zach Campbell, Oscar Allen Guinn, Hannah Hyde and Seth Weise joined us to preview their upcoming release shows for "Carrot Atlas" and use our bathrooms.
lawrence.com: You're about to go on a 40-day tour in the middle of winter.
Guinn: For our first tour, right?
Weise: Genius or stupid? I don't know.
Campbell: I've been on a winter tour before with Blood on the Wall and it sucks but it's absolutely beautiful at the same time.
Guinn: After my last winter tour I swore to never do one. We're probably going to die, but we tried to make the record as good as possible so that when we do die we'll be remembered fondly.
Album Mp3s

Carrot Atlas
Campbell: It's easier to get shows because no one else tours in winter. And it's easier to get your shifts covered at work because everything is slow. So there are a lot of positives to touring in winter except for the actual touring part.
How did the band come together?
Hyde: I was tricked into this, honestly. I don't know how any of this happened. Our first show was opening for Alkaline Trio at the Granada. I hadn't played publicly in almost seven years. I have stage fright and I'm supposed to go on and play in front of a million people? We kind of just pulled it off and we've been doing that ever since – pulling things out of thin air and hoping that it works out.
Guinn: It helps to set your standards really low … I remember when I first met Hannah. She'd been playing piano for a long time but when people were over at her house she only played it with headphones on, so even her two drunk friends couldn't hear her play. Somehow she went from that to opening for Alkaline Trio.
Hyde: I cried right before we went onstage.
Past Event
Friday, January 16, 2009, 10 p.m.
Replay Lounge, 946 Mass., Lawrence
21+ / $3
Campbell: I guess Alkaline Trio's booking agent read that Stereogum article about us and was like, "This is the band for Alkaline Trio."
Guinn: "They won't make them look bad."
Hyde: We made those kids mosh.
Campbell: Kids didn't mosh during Alkaline Trio – they just finger-pointed and cried.
Allen – I notice you're still wearing a Sunday VIP Wakarusa bracelet.
Guinn: For most people, their wedding day is the greatest day of their life and they wear their wedding ring forever. For me, it was Sunday Wakarusa VIP.
The Bottleneck gets a little lazy and they order a few too many. They kind of overestimate the draw of Wakarusa. They gotta realize that people who are that stoned don't always want to leave their house.
How would you describe your sound?
Guinn: Fall Out Boy meets Ten Years After (assorted groans ensue).
Campbell: We like The Beatles, The Breeders, The Kinks, Black Flag, The Replacements, Fugazi, Pavement …
Guinn: We're not that cool. We like Green Day, Ben Folds Five, The Gin Blossoms, the Soundtrack to "Empire Records" and Toad the Wet Sprocket.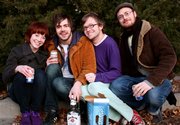 "Carrot Atlas" has 16 songs in 27 minutes – a model of efficiency.
Campbell: We cut out all the bullshit.
Guinn: Actually we cut out so much bullshit that we were able to put some more bullshit back in.
Campbell: I really have to pee. I have a small bladder. That's why our songs are so short.
Hyde: It's so poppy, though. It doesn't sound anything like that live. I feel like we're tricking people because we're two different bands: the recorded band and the drunk idiots who show up and try to recreate it. It's like we're not even in the band; we're the band's impersonators.
Guinn: We're the live stunt-doubles.
Hyde: It's because we all have drinking problems.
Guinn: It's not a problem. We drink very well.
What are you going to do after this tour?
Campbell: We're going to come back home and record our second record, which we already have enough material for.
Guinn: And enough titles for.
Campbell: It's either going to be called "Shards of Whatever" or "The Haunted Troll."
What's WoodenMan Records?
Campbell: It's a label run by an old friend of mine named Marty that I used to play in bands with back in Illinois … We were courted by Columbia for awhile, and I'm being completely serious when I say that.
Guinn: By a powerful, powerful intern.
Campbell: The people upstairs didn't approve, apparently. We seriously had maybe four songs when that happened. It was really weird.
Guinn: We left our dirty fingerprints on the glass ceiling.
Campbell: It got to the point where we exchanged emails and sent a package and he got it into the right people's hands – and then the right people didn't like it … We were so close to being rock stars. I'd be drinking an import right now.
Guinn: A Red Stripe.