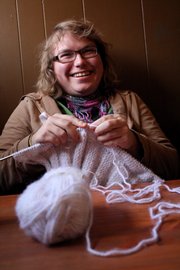 Knitting! Crochet! Crafts!!!
For a few years now this has been the big trend, sweeping the nation, taking places by storm, et cetera. Check out the latest press release from the Craft Yarn Council of America:
"Julia Roberts does it, so does Vanna White, Cameron Diaz, Sarah Jessica Parker, Daryl Hannah, Hilary Swank, Julianna Margulies and many others. Knitting or crochet is one of their favorite hobbies, but these crafts aren't just for celebrities. Learn why 20 and 30 year olds are turning on to crocheting and knitting, joining the 38 million consumers who enjoy doing these crafts."
Vanna White!
If you detect a hint of irony in the tone of this piece, all apologies, but that is half the fun of doing crafts when you are not a) 5 years old, or b) 85 years old. As it is written at the top of the craftster.org homepage, "No tea cozies without irony."
Recurring event
(One-off place), Lawrence
All ages / Free
But enough of such hipster hogwash. Let us get to the point of the story: the people of this age range who love to craft, irony not required.
One such person is Erika Shearer, 29 this week, student of biology, direct care professional at Trinity In-Home Care, crocheter since the age of 8, knitter since one month ago, a woman who harbors dreams of living on a sheep farm.
Weeks ago, Shearer made a flyer for a "Stitch 'n Bitch" group. This is not an original name or concept. There are such groups across the nation, where crafters, usually of a young and female persuasion, bring their yarn and other materials and share and talk.
Past Event
Thursday, January 15, 2009, 7 p.m.
Teapouro Tea & Espresso, 712 Massachusetts St., Lawrence
All ages / Free
"It's just nice to get together with other people who are interested in this and aren't like, 'That's kind of dowdy,'" Shearer says.
There is a hunger out there that has not been fully tapped. The first "Stitch 'n Bitch" meeting was held last week, without much to-do, and a dozen people attended.
The "do-it-yourself" crowd is into it, preferring to make their own clothes to buying them from evil corporations, says Nikol Lohr, a well-known knitting and craft blogger from Harveyville, Kan., and author of a book called "Naughty Needles."
"You see so many hand-knit things, or things that look like hand-knit things, in places like Target or Anthropologie, on both ends of the scale," she says. "People want something that's different. They want something that's completely individual, and the only way to get it, really, is to make it yourself or buy it from somebody who's made it themselves."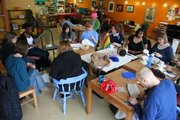 Diane Motes, 27, data analyst and crafter since childhood, used this excuse for a while. She has since come to admit that there's a deeper, non-utilitarian draw to this mode of fettering away the minutes upon hours until death do you part from this world (see: granny). Some play guitar. Some count sheep 'til sleep. Some knit.
Motes likes to sit with friends, little talking, just knitting side by side in a sort of trance. "Whenever new people are in my life, I always want them to do that with me, but, of course, the catch to that is that they have to know how to knit," she says. "So I persuade people who I want to spend time with that they want to knit too, and teach them."
Part of Shearer's personal mission for "Stitch 'n Bitch" is to make it as atypical a handicraft group as possible. She wants not just knitting and crochet, but sewing, cross-stitch, needlepoint, quilting, embroidery, macramé. She knows someone who used to make chainmaille and she's encouraging him to attend.
As far as demographics go, she wants continuous expansion. Just a few years ago, a group of mostly young women knitting and crafting together might seem unusual, but not so now.
Shearer wants more. She wants the grannies to come out and mix with the young. "I think a lot of older people know how to do this stuff and sometimes they've lost motivation to do it," she says. "My experience has been they get excited about sharing it with people. I want them to come do that." And she wants men.
Brian Donovan was the lone male at the first meeting. He's gotten into sewing in the past year and came with his wife, Natalie Donovan, who's learning to crochet, after they found out through the Facebook page Shearer made for the group.
"Really, what started it was I wanted to learn how to do simple tailoring of my dress clothes, like how to take up a hem or how to fix a sleeve," says Donovan, a 37-year-old associate professor of sociology at KU. "I found out that those are actually pretty complicated skills."
Donovan, broseph, shouldn't you be under the hood of your car, my man? Don't you know that it makes you less macho to sew?
"It might, but that might be a good thing," he says. "I think masculinity in 2009 is broad enough to have men sew and not have their masculinity threatened by it, I would hope. On the other hand, if it does challenge a hegemonic notion of what it means to be a man—men are not supposed to care about clothes or sewing or domestic things like that—then great. I can buck the trend a little bit."
Maybe men will be where the craze hits next. One day you will check out the Craft Yarn Council of America website, which will likely be your homepage, and read, "Steve Buscemi does it, so does Harrison Ford, Bob Dylan, Charles Barkley, Barack Obama, Todd Reesing, Charlie Kaufman and many others..."