Past Event
Saturday, January 17, 2009, 6 p.m. to 9 p.m.
DotDotDot ArtSpace, 1910 Haskell Ave., Lawrence
All ages / Free
When you begin a conversation about Art in Lawrence, it usually doesn't take long before you're talking about Molly Murphy.
Whether as curator for art shows at the Bourgeois Pig and Lawrence Arts Center, or as a member and gallery partner of the Fresh Produce Art Collective, or as high-profile, red-booted art-booster-about-town, Murphy's full-bore involvement in the local art scene frequently earns positive comment--but it's her painting that provokes the most chatter.
Murphy paints portraits of women, usually herself or her avatars. Her faces wear expressions of anger or accusation, sullen and reproachful. Her bodies are often nude or semi-draped, the flesh sickly and bruised. She often floats her subjects on elaborate backgrounds resembling dollhouse wallpaper, adorning them with the traditional trappings of femininity (ribbons, wedding dresses), the paraphernalia of addiction (pill bottles, syringes), and always, the color red.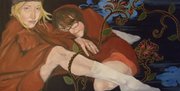 Murphy's latest work, a large scale installation of interlocking canvases, addresses the role of art in Murphy's ongoing exorcism of her own not-so-private demons--a series she describes as a "step towards a new life." The show, "If the circus moved on, would we?: New works on an old dialogue," opens Jan. 17 and runs through Jan. 31 at the DotDotDot ArtSpace.
lawrence.com: A brief history of Molly Murphy...
Murphy: I suppose I started drawing because my mom had a billion other kids to entertain. There were seven of us altogether: two older half-sisters, me, four younger brothers. We were always just handed paper and pencils.
You were born in... do you want to give your age?
I'm 31. I'm not afraid (laughs). I grew up in Baldwin primarily. I was born in Colorado but mostly Baldwin City, Kansas. Tiny little town. Definitely Kansas girl to the max.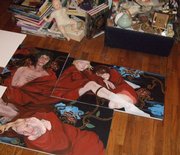 I went to Lawrence High School for a while. I lived on my own for a while in high school, and then Lawrence High School decided I should discontinue going there.
I did a little bit of college in high school, and a little bit after my GED, and then kind of became a self-taught artist.
Self-taught? The first thing I think of when I see your work is technique.
You can learn technique in a million different ways. I look at a lot of stuff, I read a lot. Just because I wasn't in a formal painting class doesn't mean I haven't spent a long time studying and trying to figure out the next step--how to create your form, with a plane of color, a layer or a line.
What do you think is the average person's first impression of your work?
Audio clip
Tom King's complete interview with Lawrence artist Molly Murphy
I get a lot of people who immediately say they find it disturbing. And I'm not sure that's always the intent. Maybe it's the expressions on the faces. I tend to use a lot of darker colors highlighted by red and that might push people towards the idea of violence.
A visceral reaction to color?
Sometimes, yes.
The self-portrait figures a lot in your work.
Yes. I think sometimes when people see a resemblance to me, they question it more, it's more disturbing. You're face-to-face with me at that point (laughs). It's easier to assess something when you're a little further away from it.
Do you intend to shock?
Not really. A lot of what I do is a reflection of my thought process, or what I'm interested in or studying at the time. A lot of the time people are just used to looking at something pretty. It's an easy way to look at art, which I'm not opposed to. I do like straightforward, pretty painting.
Do you intend your work to be cryptic? Does the viewer have to peel things away?
A lot of what I do comes from old stories and historical spaces. Allegories take looking at a bit longer.
The nude is a prominent theme in your work.
I've always been drawn to classical painters and the nude. I don't paint overt nudes necessarily, but I do a lot of things with skin tone, almost like injured-looking flesh. Jenny Seville got me thinking that way. She does very large-scale paintings of large-scaled women--very fleshy, with injured-looking tones. But they're also very straightforward paintings of women.
Is your painting political? Feminist?
Oh God, that word. I've been called a hyper-feminist, I've been called an anti-feminist. I'm not sure that word means much to me. I tend to paint about women, and I paint about experiences, about the duality of a lot of situations for women. Maybe that's feminism. I don't know.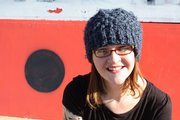 Your subjects often do seem hurt, wounded, reproachful...
I think this new series addresses that, how I've used art to express hurt. But it also shows the path outside of that, to what might be the new story. ...It was pretty amazing we had a woman running for president this year, but I think there's a long way to go. A lot of this series is about addiction. Women are the fastest-rising group of drug addicts, smokers, alcoholics. There are still very large violence numbers. And criminals! I know in Kansas City the number of women committing murders has gone way up.
Are women having an identity crisis?
Roles have become more open, but people still hold a paradigm for what a woman should be. Yes, a sort of identity crisis. You find women who are extraordinarily militant about all their rights and they look down on other women who choose to live differently. And men still have pretty set ideas about women's roles.
Recurring event
DotDotDot ArtSpace, 1910 Haskell Ave., Lawrence
All ages / Free
From the title of the show, what is the "old dialogue"?
The exact title came from a slip a paper I gave to a friend many years ago when we were living in a state of... let's say, chaos. It's been a phrase that's stuck with both of us. The series came out of the dialogue about all our escape plans then. Now, years later, here we all are. Most of us ended up in the arts, and used that to make a route to a new place in life. A lot of my surviving was through looking at artists and learning about art and by painting myself. In the new series I reference the painters and the people who influenced me during those years.
Have you escaped?
I think probably I have. But that's never really a safe question to answer "yes" to.