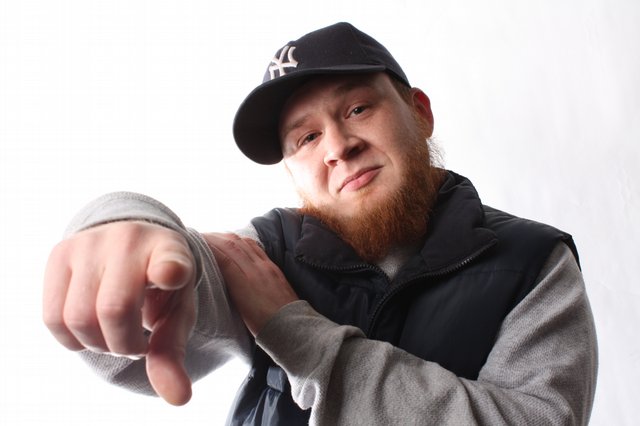 Lawrence's reputation as a transient music community overlooks the dedication of dudes like Johnny Quest. The 29-year-old DJ, producer and emcee has been a vital cog in the local hip-hop machine since he was old enough to get X's on his hands. He's hosted KJHK Wax Clashes – somewhat famously and drunkenly—and freestyled his way to victory at emcee battles. As a producer, he's worked with mic rippers like Approach, ID, Reach and Joe Good and left his indelible analog smoke all over their tracks.
Whereas many of his collaborators have taken their games elsewhere, Quest continues to build bridges for the Lawrence hip-hop scene to prosper. He'll revive Hot Mess—a monthly night to showcase local DJs and emcees—this Thursday at the Jackpot Saloon after a brief flame-up at the Gaslight Tavern (R.I.P.). Quest's latest disc "Chain Smoke" highlights his production and remix skills with rhymes from local A-listers like Stik Figa and Adru the Misphit.
Do you still feel like there's a strong hip-hop community in Lawrence?
Oh man, I don't know. Specifically in Lawrence – no. There's like zero hip-hop community in Lawrence because there are not enough artists. That's what we're working on with the Hot Mess thing – trying to bring light to some of the artists.
The majority of the dudes that were driving the hip-hop scene here are gone. Miles Bonny is in Kansas City doing the INnate Sounds thing. It's really fresh. They've been working for several years to build a really good community. But in Lawrence it's really non-existent. It was really poppin' from 2000 to 2003 when all of us were here – myself, Archetype, Mac Lethal, Approach, SoundsGood, Deep Thinkers. Everybody was here working and grinding, and people kind of spread out.
It got disjointed because there weren't a consistent amount of shows. Downplay Productions and Edwin Morales leaving town had a huge impact on that, because you can't have a scene when there's nothing to go do.
Is that what you're trying to accomplish with Hot Mess?
Yeah. I want to introduce people to artists that are here and are doing dope stuff but have yet to connect with the people of Lawrence for whatever reason. Lawrence is obviously more of a rock town than a hip-hop town. It always has been. For a long time – especially in the late '90s and early 2000s – there were a ton of great hip-hop shows here thanks to Avalanche and Downplay Productions. With those entities not being here anymore, it makes it difficult. It's hard financially to bring artists in when you don't have a backer or an organization to do that. We're trying to build a community around this night and then hope that it spreads and stays.
What should people expect when they walk in the door at Hot Mess?
Expect something different every time. There's gonna be merchandise from all the artists that are playing and from other artists in the area. We're going to have artists there painting every week. Eventually we'll do a collection of all the artwork and have an art show, probably sometime in the spring or early summer. Expect to see a lot of dope artists, dope DJs, good music, new music, old music – that's it.
Do you ever feel like an old man on the scene having been here for 15 years?
Yeah, a little bit. But it's good. I feel old and comfortable. I feel like I'm approaching things now from a fresh angle … Trying new stuff is what's most important to me. The eagerness that I lost during the period from my early 20s to my late 20s is back.
Up until I was about 22, DJing was my hustle. I was out a couple times a month playing shows. I just kind of got fed up with the scene because so many wack people started DJing and playing wack music that I didn't want to be associated with it. I didn't want to play the kind of music that I had to play to go get money, so I just kind of hibernated in the studio.
What did you make of 2008 in rap and hip-hop? Is it still cool to rap about cars and chains when the economy is tanking?
Hip-hop has always had an element of money and gold and jewelry and flashiness to it because it was the come-up for a long time. Rap or play basketball – that was how a lot of dudes got out of the ghetto. So it's always been part of culture.
Since the whole mid-'90s Puffy/Bad Boy thing there's been a saturation of money culture. Jay-Z contributes a lot to it too, because all that dude raps about now is what the fuck he got on. The normal person can't afford a $1,000 pair of shoes and a $5,000 suit. Lil Bow Wow and The Game just battled for $100,000 over a Madden 2009 game … It's a disconnect from economic reality, and hopefully in the next year or so – and I kind of see it happening already – there will be a backlash against this culture of money and flashiness.
It's getting to the point where it's sickening to the average person who can't afford to pay their bills. You can glorify chains and jewelry and drugs all you want, but at the end of the day the average person doesn't live that reality. As times get worse, it's going to become more irrelevant. I see a lot more socially conscious rappers coming out. Killer Mike has kind of stepped up to take a role in political rap. A couple things he did recently remind me of Ice Cube in the early '90s, which was a tough economic time in the hood. That bred anti-police, anti-government music, and all the things that were apparent in that music are now again becoming relevant.
lawrence.com: How did "Chain Smoke" come together?
Quest: It was basically a production album that I was working on over a period of four years. I ended up turning it into a mixtape with all-original music from local artists, lots of cuts, lots of blends, flippin' the record – the whole deal. I'm real proud of it. As far as the title goes, it was kind of a play on Miles Bonny's album "Smell Smoke" and Dri's album "Smoke Rings."