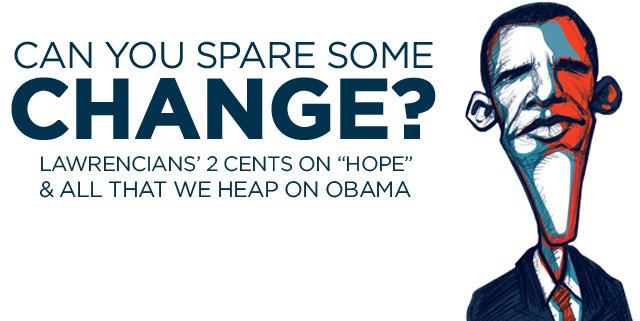 Is there anything more to be said about the inauguration of Barack Obama, our nation's first black president, as he assumes the top elected position of the land in this time of national and international crisis?
Probably not. All the same, here's what some everyday Joe Six-Packs we yanked off the street had to say.
"Even though I'm a moderate Republican, I still think Barack's sexy, so I'm really excited for the inauguration." — Laura Frizell, journalism and French student

"I cried when he won, I was so excited. I'm just sad that I'm not there to see him get inaugurated in person."—Sarah Tankard, political science student

"I'll watch the inauguration if Battlestar Galactica's not on." — Pat Barger, quality control coordinator for the Ash Grove Kansas City Ready Mix Group

"I'm looking forward to watching it. Ever since the election's been over I've just been waiting for it to start." — Sandy Nuss, circulation page at Lawrence Public Library

"It's pretty neat that we get to see our first African-American president. I think it's a step forward for America." — Karly Schultz, supervisor at Cottonwood Inc.

"I think Obama will become a good president. Maybe he can change something after Bush. I'm not sure, but maybe." — Fernando Boza, pan flute musician

"I hope Obama doesn't really disappoint all of the people who think it's really going to be a change." — Chantel Guidry, library clerk/poet

"I think it's really good for my generation because we came into consciousness during the Bush administration and Obama inspires quite a bit more hope." — Julia Barnard, sociology student

"He seems to have a lot going for him, being as he's more into saving our wartime troops. I think he'll bring us out of our social and welfare problems." — Brenda Sue Sperry, artist

"A peaceful transition—that's what makes the United States so great. I'm a Republican, but I think Obama's done well so far. He's governed from the center, which he's going to have to do to be successful." — Jesse Cheek, security coordinator

"It'll certainly be a nice change—someone who'll think about things and use reason instead of ideology." — Mark Kane, biology student

"I'm excited to watch it. I made sure I didn't have to work just so I'd be around." — Rebecca Beaulieu, music education student

"I hope a lot of things will change, of course, especially overseas. I hope America develops better foreign relations than under George W. Bush." — Amanda Assaf, anthropology student

"I hope the economy goes up so a lot of people are not laid off." — Abhigit Mehta, master's student in engineering management

"Hopefully the recession across the globe gets better. Since they say it started in the U.S., I hope the improvement also starts here." — Dua Attri, master's student in speech language pathology

"I hope Obama doesn't turn out like the movie "Bride Wars," where the preview looked awesome and hot, but then you find out it's not Kate Hudson and Anne Hathaway getting married." — Brendan Irving, liquor store clerk/gun for hire

"I'm looking forward to a president with decent communication skills." — Liron Bittan, human biology student

"Is that dude still looking for a puppy? I can roll over, play dead, even take the blame for tax increases and broken campaign promises. Woof woof, bitch." — Belle, mutt

"What inauguration? Who's Barack Obama?" — Matt Dolly, unemployed

"He's about to Barack that inauguration. There's about to be some Obama drama for yo' mama."

"I say, f*ck it. Tiesto for president!" — Daniel Bae, upcoming DJ star/music enthusiast

"There are a lot of things going on with the economy, and, especially, in the Gaza Strip. These things are really important, so we need to not only see a change happening, but get someone new in the Oval Office at this point." — Leslie Rhoton, English and history student

"Back to the uncarved stone!" — The Surfin' Judge, statue/Taoist

"Bush's presidency was overshadowed by a distrust of the government because of the things that happened with Hurricane Katrina and 9/11. Not being naïve by any means—there are always going to be secrets and things that happen behind the scenes—but for me trust has finally been restored in our government." — Eric Thompson, retention specialist for the KU Office of Multicultural Affairs

"I'm very excited to see how the new administration is going to help us move forward and bring about some badly needed change." — Kathy Rose-Mockry, program director for the Emily Taylor Women's Resource Center

"I'm just hoping that America remembers that it's going to take time to change. I hope people don't think change is going to happen like a snap, and that everyone stands behind him, because it's going to take a while." — Ashley Rudd, applied behavioral science student

"I'm going to the inauguration. I'm counting down the minutes until I leave right now. Obviously the first 100 days are going to be the test of his presidency, but if the campaign is any sort of sign, he does really well at managing and surrounding himself with the best people. I think he's going to do really well. He has the true character and demeanor that makes a great president." — Chelsea Mertz, political science student

"I'm very excited that we're finally getting rid of eight years of radical conservative politics. I hope he can help to usher in a period of progressive movement forward." — Sarah Zimmerman, barista extraordinaire

"I'm excited to drink to the end of Bush's reign." — Samantha McLeese, chemical engineering student

More like this story on Lawrence.com