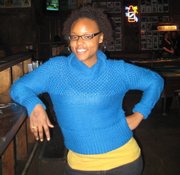 Ashley Renee Jelks, instructor, time waster, day dreamer, thesis putter-offer
How do you save money?
"I try to not spend it. That's my only real strategy. No 401k here, no savings — well, there's a savings account, but there's no money in it. I save up for rent, because being homeless isn't really that cool. I'm not a big dumpster diver, but I'll definitely get into a trash can if I see something I like. I'm a fan of coupons, customer appreciation days, drink specials, ladies' nights and shit like that. I find me a sugar daddy every now and again if I can, but it's hard to do in a college town, you know? Competition is tight."
How do you splurge?
"Hypothetically speaking, if I come into wad of money, boots. First and foremost, boots. I got some rockin'-ass boots at Arensberg's 'Going Out of Business Sale' for $120. I'm also a thrift store junkie. Lawrence, in my opinion, doesn't have the greatest thrift stores, but I'm a fan of Wild Man Vintage and Arizona Trading Company. I'm from St. Louis originally, only a few hours away from Chicago, and Chicago has the best f*cking vintage stores. If I had unlimited funds, I'd get a massage every week. Also, I'd buy up a chunk of Mass. Street and throw rockin' block parties every night. After 2:00am, of course — I wouldn't want to take away business from the bars."