Name: Dayna Brown
Age: 18
Sign: Scorpio
Hometown: Lawrence
Occupation: Animal Clinic of KAW Valley, Senior at Free State High School
What were you doing when scouted? On my way to meet my friend Rose at La Prima Tazza.
Favorite places? Urban Outfitters, India Palace, and Creation Station. I hang out at La Prima Tazza a lot.
How would you describe your style? Kind of funky and vintage-inspired. I like to look good, but most of all, be comfortable.
Where do you get your hair cut? I try new places each time, and last time I got my hair cut, I went to Headrush.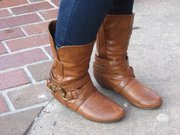 Favorite trends? I like tall boots and boyfriend sweaters. Lately I've also been into v-neck t-shirts and cardigans, and of course big earrings.
Least favorite trends? Super-tight pants on guys, pleather leggings, and super short skirts and Ugg boots worn at the same time.
Favorite coffee shop? I love going to La Prima Tazza because of the atmosphere. It's a really good place to read and study, and I love their yerba mate.
Favorite hangouts? Liberty Hall for concerts, friend's houses, and warehouse parties.
What would you like to see more of in Lawrence? I'd like to see an all-vegetarian restaurant, more bike riders, and more places where high-school kids can hang out and see shows.
What would you like to see less of? Ridiculous drunk sorority girls running around town, and gas-guzzling cars.
Who are your fashion influences? I like to go with my own instincts and don't really pay much attention to what celebrities wear. I do like clothes from the 1960s and 70s, and I always have to watch Project Runway.
People say I look like: Alice in Wonderland
Tell us a secret: I speak to my cats in Spanish. I probably send an abnormal amount of time talking to my cats in general.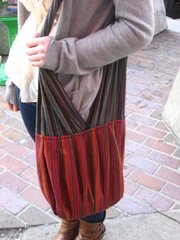 PRICE OF CLOTHING:
Boots: Alloy catalog, purchased in October for $40
Jeans: Delia's, purchased in september for $30
Shirt: Delia's, purchased in september for $25
Sweater: BGD, purchased at Urban Outfitters, 4 months ago for $40
Purse: purchased at Pagoda Trading Post in San Diego, 7 months ago for $20
More like this story on Lawrence.com