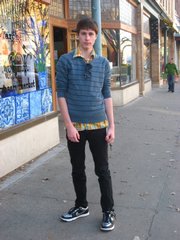 Name: Luke McDaneld
Age: 16
Sign: Aquarius
Hometown: Lawrence
Occupation: Student at Lawrence High, Dietary Aide at Presbyterian Manor.
What were you doing when scouted? Walking to Wild Man Vintage to do some shopping.
Favorite places? I really enjoy the whole downtown area, and I like walking around downtown. I like Wild Man Vintage, Love Garden, Java Break, Chipotle, and Yello Sub.
How do you describe your style? Form-fitting and looking sharp.
Where do you get your hair cut? Great Clips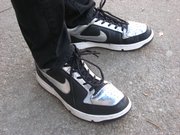 Favorite trends? I really like button-down shirts, flashy shoes, and scarves when it's cold. Those are some of the things that just seem to always work for me.
Least favorite trends? Carhartt jackets, baggy low-riding jeans, short-shorts and fishnets together. I'm not a fan of sweatpants, and I don't like when people throw a bunch of weird stuff together.
Favorite coffee shop? In terms of coffee, I like La Prima Tazza, because I've never had a drink there that wasn't good. All of their special iced coffee drinks are really good.
Favorite hangouts? I usually end up hanging out at friend's houses, or walking downtown. A lot of the time I go out to eat with my girlfriend.
What would you like to see more of in Lawrence? I think Lawrence has a lot of good things, but I would like to see more being done for the schools. I think if there were more selective classes and extra-curricular activities that weren't sports related, kids would care more about school.
What would you like to see less of? Large groups of unsupervised 7th graders, and lunacy.
Who are your fashion influences? I don't pay much attention to what's in-- I try and have a little flair. I'm mainly influenced by my favorite movies; "Harold and Maude", "Garden State", and "Little Miss Sunshine".
People say I look like: My best friend, and Kanye West.
Tell us a secret: Wayne Coyne signed my chest.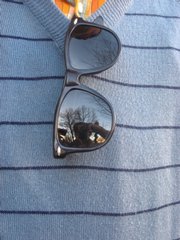 PRICE OF CLOTHING:
Shoes: Nike's, purchased at Plato's Closet, 2 months ago for $18
Jeans: Levis Super Slim, purchased at Urban Outfitters, 6 months ago for $50
Sweater: Baracuta, purchased at Wild Man Vintage, 1 month ago for $9
Shirt: Youngblood, purchased at Wild Man Vintage, 1 month ago for $9
Glasses: They were my girlfriend's dad's from the '80s, brand unknown.
Wallet: It was my friend's older sister's, I've had it since last March.
More like this story on Lawrence.com