Wednesday, January 21, 2009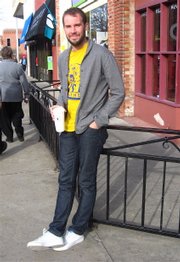 Name: Jonathan Hermes
Age: 21
Sign: Virgo
Hometown: Dallas, Tex.
Time in Lawrence: 3 years
Occupation: Student at KU
What were you doing when scouted: On my way to Chipotle. (I'm not ashamed.)
Favorite places: The Love Garden, La Prima Tazza, Liberty Hall, and I go to the Lawrence Public Library a lot to get books and rent movies.
How would you describe your style: I'm a little bit country, and a little bit rock and roll.
Where do you get your hair cut: The Barber Shop.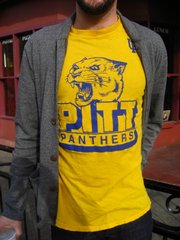 Favorite trends: Western shirts and neutral colors. I like wearing plain clothes and neutral tones, but in a stylish way. For girls, I like when they wear sundresses and boots together, and I like hippie headbands if the girl can pull it off.
Least favorite trends: Not taking showers. I'm also not big on flashy stuff, like neon colors, and the whole nu-rave look.
Favorite coffee shop: I like to study at La Prima Tazza, and I really like hanging out at Henry's because it has a bar as well.
Favorite bar: I like going to the Replay, because it has a nice mix of people. I like going to the Taproom as well, and Dempsey's is usually a good time and has a nice Irish Pub feel.
What would you like to see more of in Lawrence: Kabob Stands, recyling bins, and more local businesses. I wish Lawrence was also a little bit more bike friendly.
What would you like to see less of: Chain stores, less driving and more public transportation.
Who are your fashion influences: Steve McQueen, Steve Prefontaine, Jack Kerouac, and Jack Daniels at a Sunday brunch.
People say I look like: Ryan Reynolds
Tell us a secret: I've been hit in the face with a baseball bat and I have the scar to prove it.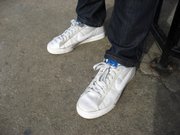 PRICE OF CLOTHING:
Shoes: Nikes, purchased in Paris, 2 months ago for 70 euro.
Jeans: Top Man, purchased in London for 35 pounds, last December
Shirt: LFT, purchased on sale for $10, 2 weeks ago
Sweater: Stolen a month or two ago from my brother, free.
Belt: Purchased at a belt stand in Italy, 2 months ago for 10 euro
More like this story on Lawrence.com