Tuesday, January 27, 2009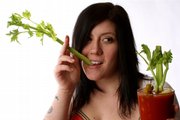 It's a typical Sunday morning in Lawrence. Noon approaches and much of the town is still quiet and slow, almost certainly shaking off a raucous Saturday night.
This is the perfect time for a Bloody Mary.
Order one on a busy Saturday night and you're likely to get a sneer from your bartender—the Bloody Mary can be a time-consuming venture needing a lot of TLC. When at last it's prepared, it demands the full attention of your senses—it's not for casual drinking in a dark bar.
It's little wonder then that Sunday mornings feature so many Bloody Mary specials—some two dozen establishments in town offer cut rates on their particular variation of this singular beverage.
A Badass Bloody Mary
3 oz pepper infused vodka5 oz tomato juicefreshly ground pepper to taste2-3 dashes worcestershire sauce2 dashes Tabasco or Louisiana hot saucesqueeze of fresh lemon or lime juice 1/2 teaspoon horseradish1/4 teaspoon greek seasoning1/4 teaspoon celery salt
Garnish with pickled vegetables (asparagus or okra are our favorites), olives, and a lime wedge.
Traditionally the Bloody Mary starts with tomato, Tabasco, horseradish, Worcestershire, black pepper, cayenne pepper, and celery salt. Variations range from a shrimp garnish to pickled asparagus, barbecue sauce to beef bouillon—there's no "right" way to make the drink. That's what makes the Bloody Mary so compelling to beverage enthusiasts—it can be a particularly personal experience.
Thus in our quest to understand this vixen a little better, we decided to put Lawrence's offerings to the test. Stepping out in our Sunday best with a camera and a roll of Tums, we hit as many Bloody Mary specials as we could to find out just what it is about Sunday that makes it the "bloodiest."
Our team of enthusiasts included Jenny Kratz, Scott Starrett, Caitlin Dix, and Jackie Gillespie. Though we didn't always agree, we tasted and tested to the best of our abilities. The reviews, listed below, are in the order we tried them—as well as in order of increasing drunkenness.
Teller's
$3, 10 oz.
Specialty: The breakfast cocktail
We started our day with a brunch Bloody Mary from Teller's. We had the bartender, Whit, make them just the way he likes them—with a pull of Guinness on top. Whit had just made their mix earlier that morning, and was able to give us the breakdown: Tabasco, Worcestershire sauce, horseradish, celery salt, salt and pepper, and olive juice. This Bloody Mary is a great addition to the Teller's Sunday brunch, but functions more like a cocktail due to its lack of thickness.
As Whit explained, "Everyone has their own flourish. The cost of our Bloody Marys doesn't allow me to do all the things I want to with our Bloody Marys."
The Jayhawker
$3.50, 14 oz.
Specialty: Perfect consistency
After Teller's we walked across the street to the Jayhawker in the Eldridge Hotel, a place that also boasts house-made Bloody Marys to accompany their breakfast menu. Our bartender, Steve, let us taste and test our palette as we tried to guess what ingredients made this particular Bloody Mary unique—and we were pretty close! The Jayhawker mixes a Bloody Mary batch about every other day, and Steve was kind enough to give us the recipe. It includes A-1 sauce, lots of fresh ground pepper, horseradish, Old Bay seasoning, celery seed, Tabasco, Worcestershire sauce, and the directive "shake it, don't break it." The consistency of this drink was smooth—easily drinkable (we gulped ours right down), putting it in our top three favorites from the day.
23rd St. Brewery
$3.50 16 oz.
Specialty: The most bang for your buck!
This was the furthest we strayed from Mass. street in our Bloody Mary quest, and we were pleasantly surprised. Our bartender (and bar manager), Justin, was slightly mysterious when divulging their recipe. They start with Dmitri's brand mix and add Tabasco and a "secret ingredient." Our somewhat advanced tasters unanimously decided it was the juice from some sort of salad pepper, like a pepperoncini, but our guesses were never validated. Regardless, this Bloody Mary has decent consistency and spice; coupled with the fact that they used Absolut Peppar vodka and that they are HUGE, this Bloody Mary is the best value we had all day.
Biggs BBQ
$3.50, 16 oz.
Specialty: The consistent Bloody Mary
We came to Biggs on the theory that barbecue restaurants are likely to have unique Bloody Mary recipes. We tried to guess all the ingredients, and were surprised to find out that they use a straight store-bought mix. Biggs' Bloody Marys are an even concoction of Zing Zang mix and vodka, plus a "beer back"—a small beer for chasing. Though we did enjoy these Bloody Marys, we were disappointed to find out that Biggs' bartenders have no personal hand in their creation. To their credit though, they did have patrons in the restaurant who were also drinking Bloody Marys, and one who even chimed in to say that Zing Zang was the best Bloody Mary mix you could buy.
Wayne & Larry's
$2.50, 7 oz. / $4, 16 oz.
Specialty: The friendly Bloody Mary
Wayne & Larry's, located next to the Royal Crest Lanes bowling alley, had one of the best atmospheres we encountered all day. Whitney, our bartender and server, has worked there for two years and is responsible for the bar's decision to switch from a Bloody Mary mix to their own creation. She said they sell quite a bit of their Bloody Marys on Sundays, and have adapted their house recipe to meet customer interests. Their mix includes celery salt, salt and pepper, cayenne pepper, greek seasoning, Louisiana hot sauce, steak sauce, and Worcestershire sauce. Wayne & Larry's was also the first place we went that used a garnish outside of the traditional lime wedge and olives—a pickle. And Wayne himself was there and very conversational about their Bloody Marys and seemed proud of the mix Whitney had helped create.
Crimson & Brews
$3.50, 16 oz.
Specialty: The accommodating Bloody Mary
Surprisingly, this was the first place we went to that inquired as to the amount of heat we liked in our Bloody Marys (but it was the second place that had "Turn the Page" by Metallica playing in the background). We tried a mild and a spicy Bloody Mary, and though we were impressed that they do not have a store-bought mix or a house-made large batch (each drink is made glass by glass), we might have liked a little more spice in ours. Their recipe includes Worcestershire sauce, celery salt, greek seasoning, pepper, olive juice, and Tabasco. It's also worth noting that they adventure in different garnishes, including pickled asparagus.
Louise's West
$2.50 10 oz.
Specialty: The famous Bloody Mary
At several places we had been throughout the day, we were asked if we had hit Louise's West yet. Even people who hadn't actually had a Bloody Mary from West seemed to know that this was a good place to get one. Matt, our bartender, was unable to divulge their secret recipe, and so we were left to our own devices. While it was definitely the spiciest Bloody Mary we had up to that point, our only complaint was that it was full of a little too much dry spice that made it grainy in texture. Still, it was tasty enough to live up to legend—and their allusiveness about the recipe adds a certain need to drink another one. We were happy to take a break from Bloody Mary drinking as well, and cleansed our palettes with a beer or two while playing some games before we continued on our quest.
Vermont St. BBQ
$3, 16 oz. double shot
Specialty: The DIY winner
Seven hours into our adventure, we stopped in at Vermont Street for some dinner—and more Bloody Marys. Made from tomatoes smoked in their meat smoker, their tomato base is flavorful and fresh. We also enjoyed some house-infused habanero vodka, and enough garnishes to cover the whole top of our drinks—pickles, olives, lime wedges, and pepperoncinis. But perhaps the best part of this Bloody Mary experience is that it is the only places that functions somewhat like a Bloody Mary bar. They supply you with a caddy full of different hot sauces and spices, Worcestershire and vinegar, making it a Bloody Mary drinker's heaven. We particularly liked the Tiger sauce and the Stubbs chili lime rub seasoning. Our suggestion is that if you don't know just how you like your Bloody Marys, you take someone with you who does, because this Bloody Mary experience is deliciously do-it-yourself.
Bourgeois Pig
$4.75, 16 oz.
Specialty: The TLC Bloody Mary
The Bourgeois Pig has the most expensive Bloody Mary special in town, but you can be sure that your drink will be made with lots of TLC. Made to order, these Bloody Marys are spicy and flavorful, and include a pull of Boulevard Stout on top. Being the last place we stopped, our senses were fairly overloaded and our memories fuzzy, but it was nonetheless a great end to our adventure.
There are quite a few more Sunday Bloody Mary specials out there, more than we could taste in one Sunday. Please, share your own favs below...