Thursday, January 29, 2009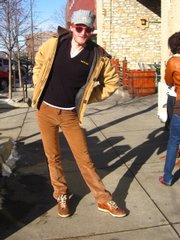 Name: Mick Cottin
Age: 22
Sign: Aries
Hometown: Lawrence
Occupation: Projectionist at Liberty Hall, co-owner of Cottin's Hardware, and student at KU.
What were you doing when scouted? Walking my dog Gus on Mass. Street.
Favorite places? The Casbah Market, Nice Cafe, La Prima Tazza, Harbour Lights, and the Mutt Run Dog Park.
How would you describe your style? Sidewalkin' Streetwheeler.
Where do you get your hair cut? My hair stylist moved away, so I'm searching for a new one.
Favorite trends? Gold teeth, tank tops and short shorts, old man sweaters, train chic, and Shaq's twitter.
Least favorite trends? Non-prescriptive glasses, backpacks on wheels, and the snub.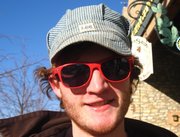 Tattoos/piercings? On my left bicep I have a tattoo of a camera, which was done by Lance at Big Daddy's.
Favorite coffee shop? I like La Prima Tazza and the Pig, because they have the best baristas and the best coffee. The Pig is also really quiet during the weekdays, and it's good for studying, and there's alcohol if you need it.
Favorite bar? I like going to Harbour Lights and the Pig, mainly for the atmosphere. Harbour also has the friendliest doormen in town.
What would you like to see more of in Lawrence? More dogs, more leg, more 'staches, more bikes, and maybe another art supply store downtown.
What would you like to see less of? The word "townie," less people bringing Starbucks into Liberty Hall, and less people turning left into parking spots on Mass.
Who are your fashion influences? Tom Cottin, Jay Hauptil, The Jonas Brothers, and Dennis Abbott.
People say I look like: My dog
Tell us a secret: My hip-hop name is Billy Gay Cyrus.
PRICE OF CLOTHING: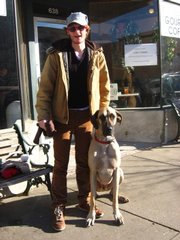 Shoes: Nike High Tops, purchased at ATC, 2 years ago for $5
Pants: Wild Man Vintage, purchased 1 year ago for $15
Sweater: A vintage Cottin's Hardware & Rental sweater - a family heirloom.
Sunglasses: Purchased at a gas station in Missouri, 1 month ago for $7
Hat: Lee Official Conductor's Hat from the '60s, from a friend about 2 years ago, and worn every day since.
Scarf: American Apparel's website, on sale for $18, 2 months ago
Jacket: My dad's 1986 Carhartt arctic wear, free
More like this story on Lawrence.com