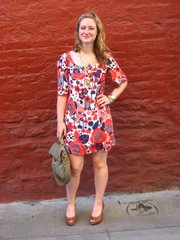 Erinn Barr
Age: 29
Sign: Pisces
Hometown: Ponca City, Okla.
Time in Lawrence: Off and on for 10 years
Occupation: Graphic Designer and full-time vampire enthusiast
What were you doing when scouted: Shaking a leg at the Tap Room
How would you describe your style: On my best day, I am a mix between Liza Minnelli and Phyllis Nefler from the movie "Troop Beverly Hills."
Favorite trends: I like fringe a lot, and shiny things. I love accessories and chunky cocktail jewelry. Jeff and I have also been trying recently to make the male brooch happen.
Least favorite trends: Straight-up ugly. Just because it's vintage does not mean it's worth wearing, and it's not advisable to buy the ugliest romper at Goodwill.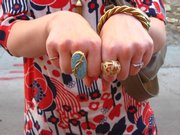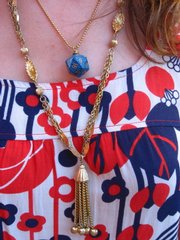 Favorite Lawrence summer activities: Sitting inside in the air conditioning
What would you like to see more of in Lawrence: I'd like to see more cats in businesses, and I'd always like to see more restaurants.
What would you like to see less of in Lawrence: Currently, I'd like to see less of the sun in general. I'd also like to see less of the heat and humidity, and creepy guys at the Replay.
What are your guilty pleasures: Dungeons & Dragons. We have a group that gets together every Sunday. My character's name is Foxfurious Rosenbaum. I'm also into anything having to do with vampires ("Buffy the Vampire Slayer," "Angel," "True Blood," "Twilight"), and reality television in general.
Who are your fashion influences: Well, Liza Minnelli and Phyllis Nefler are definitely influences. I'm also inspired by Snow White, Cher and the movie "Cabaret."
Where do you get your hair cut: Brad at the Green Room.
People say I look like: Zooey Deschanel, but when I look in the mirror I think I look like Sara Gilbert from "Rosanne."
Tell us a secret: I probably watch 6 hours of television a day.
Shoes: Frye, purchased on eBay for $30, 2 years ago.
Dress: Purchased at Hidden Treasures in Topanga Canyon for $20, 1 year ago.
Bracelet: Purchased on sale at Banana Republic for $4.99, a few months ago.
Watch: Timex, a gift from Jeff about 2 years ago.
Rings: The gold one is from Forever 21, purchased 2 days ago for $4.80. The blue-and-gold ring is from Goldmakers and was a birthday gift from Jeff.
Necklaces: One is a gift from my mom, which is from a church garage sale. The other is a 20-sided dice necklace given to me by my D&D; comrade, Caterina.
More like this story on Lawrence.com