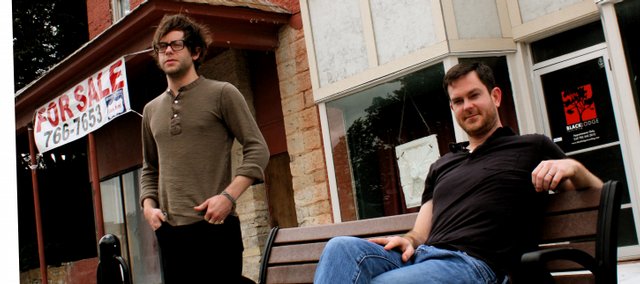 Some of the bands that have recorded at Black Lodge Recording in Eudora have claimed it was haunted.
Owners Ed Rose and Ryan and Rob Pope have decided to sell the studio, making it a possibility that the place could itself become a specter of the regional music scene of which it has been a part for the last 20 or so years.
Relocation and relaxation factored heavily into why the trio of owners decided to sell the studio.
Brothers Ryan and Rob Pope, who formed the rhythm section of the band The Get Up Kids, are relocating to Portland, Ore. And Rose and Ryan Pope both say they would enjoy the artistic side of creating music a lot more if they didn't have to juggle the business side of it.
"Not having to deal with all the little things that come with owning a recording studio in a 150-year-old building will open up more time for me to spend on the fun part of my job," says Rose, who also is a sound engineer at the studio.
Rose and three members of The Get Up Kids purchased the business when it still was called Red House Studios, which had been around since the early 1990s.
Ryan Pope estimated that hundreds of albums by bands such as the Get Up Kids, Motion City Soundtrack, Appleseed Cast and Ultimate Fakebook have been recorded at the studio.
Jeff Jackson is one of the many people who had spent time recording at Black Lodge. A Lawrence resident since 1995, Jackson is a pedal steel player for the band Roseline and also is a sessions musician.
He says the quality of the music that has been recorded at Black Lodge has been integral to the development of the Lawrence music scene.
"The number of bands that have recorded there have made it substantially further than other bands, so I would say that's it's definitely important to the scene," Jackson says.
Eric Melin, former Ultimate Fakebook and current Dead Girls Ruin Everything drummer, says his experiences at Black Lodge amounted to more than simply making records.
"It felt like this destination," Melin says. "It felt like not only are we recording our record, but we're at this place that has great ambiance and someone great behind the knobs."
Pope claims the ambiance was cultivated. It became especially important because some bands spent as much as two months living at the apartment above the studio.
Another part of the facility that bands loved was the drum room.
"Ed and I are both drummers, and Ed's been doing this for about 20 years and has a reputation for being a drum nerd and being really good at recording drums," Pope says. "The live room sounds amazing for drums, and I think that's why a lot of people locally and on a national level like to come here."
Melin says Dead Girls Ruin Everything used its entire recording budget just to lay down drum tracks at Black Lodge, and then did the rest using home recording software.
This practice is evidence of an ongoing sea change in the way artists record albums, which also was a factor in the decision to put the studio up for sale.
"Budgets have been steadily decreasing for about four years now," Rose explains. "Once music became 'free,' it totally changed how the business end is run. And, consequently, with less money coming in, there is less money available for recording budgets."
Convenience and financial aspects might have home recordings on the rise, but Jackson says the experience wouldn't approach what it was like to make a record at Black Lodge.
The building, which includes two separate recording rooms as well as an apartment on the second floor, and all of its equipment can be had for $300,000. Those not interested in the studio can buy just the building for $200,000. All serious buyers have had financing fall through, though.
Pope says he regretted having to sell, and he hoped someone with more time and energy to run the studio would buy it.
"It's sad," he says. "It's not our first choice, I mean, if we were millionaires we'd keep it, but we're not.
"It's run its course for us, but it doesn't mean that someone else couldn't come in here and allow this place to keep doing what it's done and more. But we're tired."
More like this story on Lawrence.com