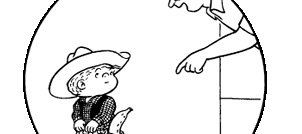 Back at my "old job" coddling alt-weekly journalism in Kansas City, we spent a lot of time making sport of daily newspapers.
One time-waster involved the comics section of the weekday's Kansas City Star. In that era, the Star ran the single-panel "Family Circus" and "Marmaduke" side by side. (Maybe they still do, but I haven't checked in years.) For my money, these were two of the least entertaining comics in history. Harmless, yes; funny, no.
So my co-worker Jeff and I made a game out of cutting out the "Marmaduke" punch line and pasting it over the "Family Circus" panel. There was only one rule: The comics had to be from the same day's paper.
The result was always amusing. Sometimes it implied horrific parenting or criminal behavior by kids Billy, Dolly, Jeffy and P.J. Sometimes it was dirty; occasionally it proved borderline racist.
Often it was so eerily appropriate that it kind of creeped us out.
However, doing the reverse ("Circus" dialogue under "Marmaduke" art) was NEVER funny.
For years, people would tell us: "You should make a book out of these."
"No thanks," we countered. "We're not really interested in fighting a lawsuit with King Features Syndicate."
But in our current Internet culture of instantaneous parody, several sites targeting "Family Circus" have sprung up. The most amusing of these is the "Nietzsche Family Circus."
The site pairs a randomized "Family Circus" cartoon with a randomized quote from German philosopher Friedrich Nietzsche.
Recent gems include a panel of Dad scolding Billy, who is dressed as a cowboy but with a banana instead of a gun in his holster. The caption reads, "To make the individual uncomfortable, that is my task."
And there's one depicting Mom reading "Little Red Riding Hood" to Billy, who espouses, "Liberalism is the transformation of mankind into cattle."
Readers may recall a similar bastardization of "Family Circus" that launched in the mid-1990s. A site called "Dysfunctional Family Circus" began accumulating Bil Keane's signature comic, removing the captions, then inviting readers to submit their own. (A repository of this saucy material can be found at http://www.dfc.furr.org)
In 1999, the site received a cease-and-desist order from King Features Syndicate citing copyright violations. The then-proprieter Greg Galcik complied, but only after speaking directly with Keane on the phone.
While that officially ended Dysfunctional Family Circus, to this day you can still find examples of similar parodies all over the Web.
But you won't find our Circus/Marmaduke collaboration anywhere. Too risky.
As Nietzsche once said, "Distrust all in whom the impulse to punish is powerful!"
— Entertainment editor Jon Niccum explores facets of pop culture that have established a unique niche on the Internet in Net Worth. He can be reached
at 832-7178.