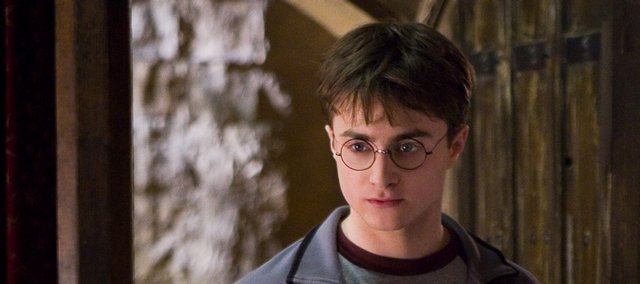 Mia Iverson is going to pull a black cloak and red-and-gold-striped tie out of her closet this week.
It's not Halloween, but she'll don the clothes Tuesday anyway and head down to the movie theater before midnight. Iverson, a Kansas University senior from Frisco, Texas, will be around other people dressed up in the red and gold Gryffindor uniform, people in the silver and green of Slytherin and countless other fans waiting to see the newest Harry Potter movie for the first time.
Tuesday night at midnight, movie theaters will begin showing "Harry Potter and the Half-Blood Prince," the sixth installment of the eight-movie series modeled after J.K. Rowling's Harry Potter book series. In the movie, Harry and Dumbledore work to search for Voldemort while hormones run wild for the magical teenagers.
Tickets to the first two of three midnight showings at Southwind 12 sold out already, but die-hard fans can still get tickets online for the 12:10 a.m. showing.
Many of these fans grew up the same time Harry did, reading the first book when they were in fifth or sixth grade and finishing around the time they graduated high school, just like Harry. Along with reading an intricate fantasy story, members of this Harry Potter generation say they've learned lessons from the books and identify with Harry, the seemingly normal boy with an abnormal past and powers.
Movie
Harry Potter and the Half-Blood Prince
* 1/2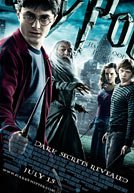 The sixth movie in the "Harry Potter" series is its most disappointing. For all of its visual splendor, it bungles the details and reduces J.K. Rowling's rich fantasy world to a vague and arbitrary dullness.
'Childhood ended'
Megan Do, a KU junior from Wichita, was introduced to the Harry Potter series by her fifth-grade teacher. It became her favorite part of the day listening to the story, and from then on she was hooked. She has been to every midnight release of the books and movies since then, and she plans to see the movie Tuesday night.
Do has been no stranger to showing her love for Harry Potter. She went to several Harry Potter parties throughout school, where she dressed up as Cho Chang, Harry Potter's love interest for a few of the books. She says part of the reason she loves the story is that she can relate to its characters.
"I totally had an awkward phase," she says. "For Harry Potter, he stuck out like a sore thumb and didn't really make friends well."
Do, who says she could never get tired of the books, used to stay up all night reading them when they were newly released. For her 16th birthday, her aunt, who owns a toy store in Chicago, sent her different Harry Potter memorabilia — a light-up wand, Quidditch balls and supplementary books mentioned in the series. During high school, she also helped a friend develop www.veritaserum.com, a Harry Potter fan site with biographies of characters she helped write. Then, she graduated in May 2007, two months before the last book in the series was released.
"I grew up the same time he did, and after I read the last book, I felt like my childhood ended," she says.
'Good vs. evil'
Giselle Anatol, associate professor of English at KU, will teach a children's literature class in the fall where her students are required to read "Harry Potter and the Sorcerer's Stone," the first book in the series. She says it's important to study the books because they've become so popular with children and adults alike, many of whom read them multiple times.
"A lot of the narratives are ingrained into kids' minds," she says. "There are subtexts, social lessons and morals."
Anatol has edited two books with essays that take a critical look at different aspects of the books. She says the books have different layers, which make them interesting to interpret and talk about. They have echoes of other familiar stories: adventure like in Arthurian legend, mystery like classic Nancy Drew and Hardy Boys novels, orphans finding homes like in Oliver Twist and also budding romances and fairy tales.
"Some people argue that it's the classic tale of good vs. evil that draws people in," she says. "It's not like a lot of fairy tales where good is the perfect good. Harry has all these faults."
'It guided me'
Austin Falley, a junior from Wichita at KU, says there's something basic and universal about Harry's life and the struggles he goes through. Falley graduated high school at the same time as Do and grew up reading the books.
"I feel like it guided me into the end of high school," Falley says.
Falley's mother, who was a teacher, read the first book to him and his brother, using different voices for characters such as Professor McGonagall. He and his friends started to get into the books and went to most midnight releases. For "Harry Potter and the Deathly Hallows," the last book in the series, Falley and his friends made T-shirts sporting sayings such as "Ginny is a fox" for the night, eventually landing on the evening news for their preparations. They bookstore-hopped that night and tried Hogwarts Express and Hogsmeade staples, such as butterbeer and Bertie Bott's Every Flavor Beans.
Falley is getting a group of friends together to see the movie Tuesday. He says the story is sentimental to him and that he doesn't know anyone who doesn't get obsessed with it.
"As we grew, it grew with us," he says.
'They're an escape'
Elise Higgins, a KU senior from Topeka, thinks the books have good lessons to teach. She says the themes of compassion and creativity are all within the book, in addition to values like love and kindness. But the books offer more than that to her.
"They're an escape, and they're funny," she says. "As a kid I always wanted to levitate, shoot sparks and unlock doors."
Genevieve Apel, a Lawrence senior at KU, says the style in which the books were written are what she likes. She's fascinated with the fact that Rowling spent years before writing the book to figure out a seven-book story and developing believable characters.
"I think she does a really good job capturing the adolescent age," she says. "She writes them so well you think they could exist."
Apel got into the books right when they were released and has read each book at least four times, seen all the movies and listened to them all on CD at least twice. She's already got her midnight showing tickets.
Iverson says her costume probably won't come out again until the next movie does. It's been used a lot — for book releases, movie releases, and one year during Halloween when she and her brother, seven years her junior, dressed up as Harry Potter. The stories gave them a way to bond, but also gave her an escape from real life.
"With each book," she says, "I understood what he was going through because I was going through the same thing."
More like this story on Lawrence.com