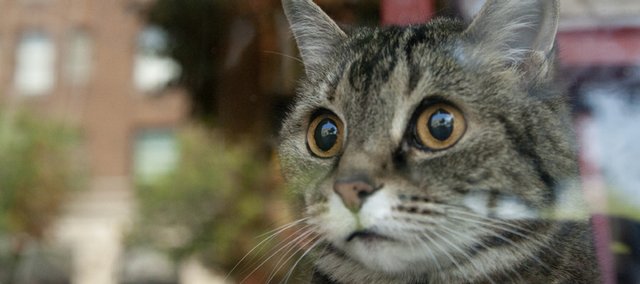 Photo Gallery
Downtown Lawrence pets
Meet some of downtown Lawrence's favorite furry characters.
Allie sits at the window and stares outside at customers. People with their dogs walk by, stopping to say hi. Someone comes in the store and Allie greets them, giving them the guided tour of the store. Allie works at It's About Time, 816 Mass., but she's not on the store's payroll. Allie is the store's live-in cat, which Jessica Irving, store manager, says is the perfect job for her. Many stores in the downtown area keep animals, which employees say make working in the stores more comfortable.
With the Downtown Sidewalk Sale coming up Thursday, here's your guide to the animals you'll encounter at the shops along Massachusetts Street.
Mickey Roy, Sam and Ernie, Love Garden Sounds, 936 1/2 Mass.
Types: Mickey Roy is a yellow tabby male, Sam is a tabby male with white boots, and Ernie is a gray male.
Origins: All three came from the Lawrence Humane Society, and Mickey Roy and Sam were cage mates.
Favorite spot in store: Mickey Roy and Sam roam around in the store and sleep in boxes on the counter and windows, but Ernie stays in the back.
About: Mickey Roy and Sam treat the store like their bachelor pads, says Aaron Marable, salesperson. He says they have epic wrestling matches every night, and employees cover the music racks so the cats don't blanket them in hair. Ernie is less sociable, but he shares an office in the back with the store's record buyer.
Allie, It's About Time, 816 Mass.
Type: White female cat with black and orange spots
Favorite spot in store: Front window
Origins: Jessica Irving, store manager, says Allie was rescued from the Lawrence Humane Society and originally hunted for mice at Celestial Ironworks before she came to It's About Time.
About: Allie has a legion of fans, including dogs that walk by that Irving calls Allie's "boyfriends." Allie's never broken anything at the store, but once she did get into paint, as evidenced by green pawprints peppering the floor. Allie also has left her mark as a clock the store created in her likeness that hangs on the wall.
Alice, Dusty Bookshelf, 708 Mass.
Type: Gray tabby female
Origins: Alice was a stray found by a local veterinarian about 10 years ago. Shannon Jones, manager, says the trend of cats in the Dusty Bookshelf started in its Manhattan location but quickly spread to Lawrence.
Favorite spot in store: Jones says the green armchair in the animals section of the store is Alice's property and can almost always be found there.
About: The Dusty Bookshelf sells T-shirts with Alice's face on them and she's even on a page of the book Cats 24/7. Jones says Alice is perfect for the store because she's mellow and great with kids, but during interviews for new employees, they ask about allergies or fear of cats to make sure people can work with her.
Past Event
Thursday, July 16, 2009, 5 a.m. to 9 p.m.
Downtown Lawrence, Lawrence
All ages / Free
Stanley, Sunflower Outdoor and Bike Shop, 802 Mass.
Type: Tan longhair male with shaved body and unshaved head, tail and feet
Origins: Stanley came to the store about eight years ago after being adopted from the Lawrence Humane Society. Jill Meara, buyer at Sunflower, says Stanley has BBs in his body, requires a liquid diet and is missing all his teeth, so he probably had a rough life before Sunflower.
Favorite spot in store: On the counter or in his tent in the front window
About: Stanley has his own "Stanley Cat" Facebook page as well as T-shirts, buttons and water bottles with his face on them.
"Even people who don't like cats like Stanley," Meara says.
Possum, Sarah's Fabrics, 925 Mass.
Type: All-black female
Origins: About nine years ago, workers outside Sarah's Fabrics warned employees that an opossum had entered the store. Employees left food so it wouldn't die inside, and eventually left out a litter box. Someone shook a bag of food and out came a black kitten.
Favorite spot in store: Possum regularly sleeps in her personal fur-lined basket or on bolts of fabric next to the cutting counter, but she really roams around the whole store, says Amy Mihalevich, saleswoman.
"It's all a big cat bed," she says.
About: Possum likes to sleep on top of all the fabric, and Mihalevich says employees follow her with a lint brush.
Bailey, Kring's Interiors, 634 Mass.
Type: Black lab female
Origins: Jana Flory, interior designer, says Kring's Interiors owner Brit Kring got Bailey at a Ducks Unlimited auction almost nine years ago and didn't know where to keep her, so he took her to the store.
Favorite spot in store: Lying on the tile floor or waiting by the candy machine while people get M&Ms.;
About: Bailey comes to the store every day it's open, and Kring says she's an icebreaker for customers who can't decide if they want Kring's Interiors to work on their home.
"We've had a number of people say, 'We decided to have you do it because of the dog,'" Kring says.
Duke, Winfield House, 835 Mass.
Type: Golden Retriever male
Origins: Duke, who is now 11, has been coming to the store since he was 3 months old, says Linda Campbell, former owner of the family business. He's named Duke after John Wayne, and many people know his name before they know names of employees.
Favorite spot in store: Laying in the open door
About: Duke only comes to the store with Campbell on Thursdays, Fridays and Saturdays, but when he does, he's either sleeping or is surrounded by people petting him.
"He's the most important person around," Campbell says.
More like this story on Lawrence.com