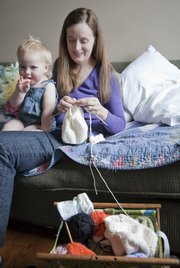 Etsy by the numbers
• Total members: More than 2.5 million
• Total sellers: More than 250,000
• Items currently listed: 3.7 million
Gross merchandise sales
• 2005: $166,000
• 2006: $3.8 million
• 2007: $26 million
• 2008: $87.5 million
• 2009: $58 million (through May)
Source: Etsy.com
Though she grew up in faraway countries such as Indonesia and Pakistan, Malindi Alexander learned about the wide world of crafting from her grandmother, Nellie Kinzy, while spending summers in Kansas.
"My grandmother always had my sister and I doing some sort of craft project, art project," Alexander says. "She would have us finger-knitting or plastic canvas (crafts) or something. And then when I was around 13, she taught me how to knit and crochet. I owe it to her."
What Alexander owes her relative is a flourishing business on the Web site Etsy. Check out the profile for Handmade by Malindi to pull up dozens of listings for colorful, handknit baby hats, many featuring a knitted or ribbon flower on the side.
The hat model? Well, she's Olive, Alexander's youngest daughter, 1 1/2 years old. She inspired Malindi before and after her birth to market the hats to a broader audience.
"It started out as fun, and I (listed the hats) to just kind of see what happened, and they started selling, so I started making more. It's really helped us out financially," Alexander says.
So is Etsy the latest quit-your-day-job venture for aspiring craft makers and artists? The Brooklyn, N.Y.,-based Web site's latest figures estimate there are more than 250,000 sellers who have sold $58 million in merchandise in 2009 alone.
Do a "shop local" search for "Lawrence, KS," and you'll pull up nearly 60 recently updated shops.
Etsy media representative Adam Brown explains the appeal to the site, which opened in 2005.
"People coming to Etsy to shop are more interested in a unique, handcrafted product," Brown says. "They understand the value of homemade goods and are willing to pay the prices for it."
Alexander, of Baldwin City, sells her hats for $22. It takes about an hour to make a hat, she says — not bad, although it's difficult to make a quota of seven hats a day raising Olive, Madeline, 12, and Jude, 7. She also works as an occupational therapist.
"During the fall and Christmas, I kept teasing my husband that I was going to have to teach him how to knit," she says.
Art scene
While Etsy caters largely to makers of homemade crafts, it's also a venue for fine arts. Scott McCauley, a Lawrence photographer, has been selling his nature prints on Etsy for about four months.
"It's been doing fairly well," he says. "I still don't make most of my sales there. People tend to buy (photos) once they see it, so buying online hasn't been too big for me yet."
McCauley mainly focuses his efforts on other networking opportunities — he's the secretary for the Lawrence Photo Alliance, for one — but he agrees the online sales sites offer another outlet for exposure.
"A lot of people have found me and contacted me, not through Etsy necessarily, but they want prints otherwise," he says. "Sometimes they would just want another size, or they wouldn't want to go through Etsy for some reason. But I have had a few sales from Etsy."
McCauley suggests Etsy might be a better venue for craft makers.
"Fine art on Etsy tends to get a little lost," he says. "The majority of shops on Etsy are all soap or jewelry or smaller purchases. That, and the categorization of arts, if you're looking for photography, it's not directly in front of your face. It's all in the category of art.
"There's a lot of artists on Etsy that have been trying to push the administration there to give us some more exposure," he says.
Other options
McCauley has expanded his search into other online sites, including 1000markets.com. He says he likes that there is no upfront listing cost there and doesn't require the same time relisting items that don't sell.
Alexander has expanded her online sales as well to a site called craftsburykids.com.
Crafting profits have aided Alexander's family financially more than expected, she says, as Medicare changes in the last year have adversely affected her occupational therapy caseload.
"It's kind of gotten us through some rough months. We just bought a new house and stuff, so it helped us out with that. It helped out with Christmas," she says.
The holiday season brought another tough challenge for the Alexanders — the death of Nellie Kinzy in December 2008.
"She was great at getting me started on (crafting)," Alexander says. "And since then, I've always been doing something like that. I've always got some project going."