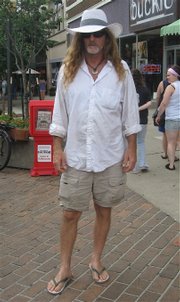 Name: Rob Kammeyer
Age: 50
Sign: Double Scorpio
Hometown: Lawrence
Occupation: Tree Trimmer
What were you doing when scouted: I was making the morning rounds.
Where you'll find usually me: I hang out on the porch at Free State, I get my coffee at Z's coffee shop or La Prima Tazza, and once and awhile I go to the Replay.
How would you describe your style: A mix of raggamuffin and Freewheelin' Franklin from the Fabulous Furry Freak Brothers comics.
Where do you get your hair cut: I cut the big tangles out myself.
Favorite fashion trends: I don't really look at men's fashion much — although I do like solid colors and wearing hats in the summer. For women, I like long hippie skirts or mini-skirts, and I wish braless-ness would come back.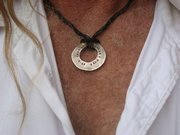 Least favorite trends: Big sneakers and long, baggy shorts, because it makes guys look like they have short legs.
What would you like to see more of in Lawrence: The ultimate would be to have shade trees and no cars on downtown, and make Mass. Street all pedestrian. I'd also like to see more outdoor bars.
What would you like to see less of in Lawrence: City ordinances and West Lawrence development.
Who are your fashion influences: Old hippies.
What is your personal philosophy on life: I try to avoid competition as much as possible.
People say I look like: I used to get Jesus a lot, or Santa. People also say I look like Robert Plant, and when my hair is short, Kris Kristofferson and Kenny Rogers.
My favorite Lawrence summer activity is: Being out in the middle of the night at 1:30 a.m and it's still warm outside.
Tell us a secret: My real secrets are ones I wouldn't want to say.
PRICE OF CLOTHING: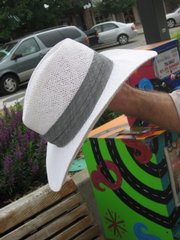 sandals: Florida tourist thongs from Wal-Mart. I have five pairs. Purchased one month ago for $1.
shorts: Goodwill, purchased two years ago for $3.
shirt: Goodwill, purchased two years ago for $2.99
necklace: My sweetie gave it to me. It says "love is a river — drink from it." I've had it for two years.
sunglasses: Locs, purchased at Logic Clothing, less than a week ago for $10.
hat: Wal-Mart, purchased one month ago for $7.