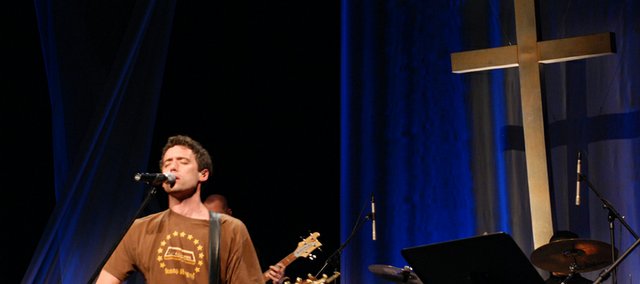 EastLake Church preview events
EastLake Community Church will hold a barbecue at 6 p.m. Aug. 15 for those interested in learning more about the church. E-mail matt@eastlakelawrence.com for more information and directions.
Preview services for the church will begin at 10 a.m. Oct. 11 at South Junior High School, 2734 La. To learn more about the church, visit www.eastlakelawrence.com.
Most everyone has a dream job: the perfect vocation in the perfect place that fits perfectly in the most perfect version of the world.
Matt Cox had his dream job — video game designer. For three years, it was exactly what he wanted to do.
Wanted, as in the past tense, because it's no longer his job.
He wasn't a causality of the down economy or of a dream turned into a nightmare or some other cruel twist of fate.
He walked away.
Turns out a dream job is only a dream job as long as another dream doesn't come along.
"It's not just like I sat down one night and weighed my options," he says. "God was working in me."
So Cox plans to found EastLake Community Church in Lawrence, a town in which he lived for nearly a decade. Next month, he'll leave his dream job in Seattle and follow his vision of helping "people who hate church" find their perfect place to be with God. The church will begin preview services Oct. 11 and hopes to meet regularly after the first of the year.
"I've always wanted to be a part of a church where I can invite my friends who don't know God and, you know, just don't really like the whole traditional church thing because just the atmosphere," Cox says. "I'd rather be in an environment where I can just come and relax and feel like ... I don't have to learn the secret handshakes, the lingo, just kind of sit in the auditorium, just kind of check out Christianity."
Choose your own adventure
For three years, Cox worked as a video game developer in Seattle. A lifetime gamer and former video game columnist for Lawrence.com, the career was more than a dream job: Cox, 29, and his wife, Emily, had found what they considered to be nearly heaven on earth.
"Seattle is just a gorgeous area, amazing people, lots of great hiking, water — blah, blah, blah — and we found a church also called EastLake out here that was that sort of place that we'd always dreamed we could be a part of. We got involved and volunteered," Cox says. "And we just kind of thought it was kind of the end of our story, just because we found everything we always wanted."
Cox jumped from his initial job with Cranky Pants Games to a role as a lead designer at 5thCell Media, a company that had worked with Warner Bros. to create video games and which happened to be run by someone he met at church. The most recent game he helped design, "Scribblenauts," debuts Sept. 15 and earned "sleeper hit" status at the recent E3 (Electronic Entertainment Expo) trade show.
Ironically, Cox's life today could be some alternate "Scribblenauts" level, as the game's premise is a sort of pick-your-own adventure based on nouns.
And Cox isn't the only one going on the adventure. He and Emily are part of an eight-person crew coming to Lawrence from EastLake in Seattle. Four of those folks have never been to Lawrence. Seattle resident Heather Dougan, 28, is one of them.
"I was on staff at EastLake in Seattle. I just really believe in the vision of the church, and I believe that there needs to be somewhere for the rest of us," Dougan says. "For me, personally, before I had gone to EastLake, or before there was an EastLake in Seattle, I was not following God or going to church at all, and so since my life was ... so changed by it, I'm fully behind it and I want to be able to ... offer the same kind of thing to other people."
Finding comfort
Besides the Seattle team, Cox also has a group of about 20 Lawrence residents dedicated to the project. Kelli Szrot says she jumped at the chance to be a part of a church that wants to throw the "rules" out the window.
"I feel like the goal for this church is to accept people rather than toss down judgments on them," says Szrot, who decided to volunteer after watching videos about the church's concept on the Internet.
Cox says that it's important to him that those involved understand that there's no pressure at EastLake. He says though the church's main focus will be to introduce the estimated 70 percent of "unchurched" Lawrence residents to the Lord, there's no big push to convert visitors into volunteers overnight.
"Out of the 100,000 approximate people in Lawrence, only 30 percent of the people go to church at all ... our vision is for that other 70 percent — that's who we're starting it for," Cox says, citing population survey data. "The team that's coming with us and the people who are volunteering in Kansas are very passionate about providing that environment where anybody can show up on a Sunday and kick the tires of Christianity."
That also means there's no pressure for him to forget who he once was, even though now he'll be the Rev. Matt Cox, rather than the gamer Matt Cox.
"I'm not like selling all my video game consoles or anything like that. I'm still a gamer at heart," says Cox, who was ordained by EastLake a few weeks ago. "It's not one of those (in a dramatic voice) 'I've realized the sins of the video game industry, so I'm going to follow God.' It's absolutely nothing like that."