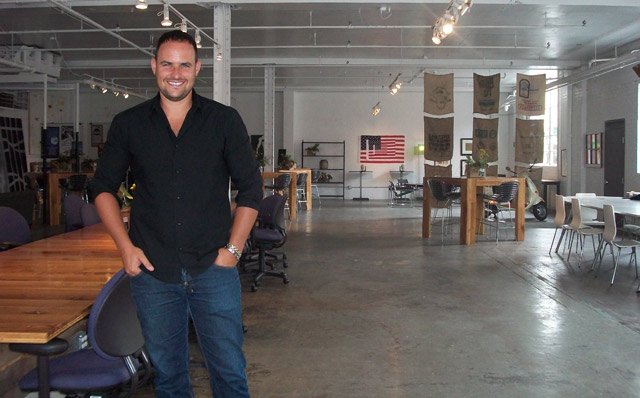 Despite the notable distractions of Sarah Palin, Michael Jackson, and the extracurricular dalliances of any number of powerful politicians, the news cycle seems to keep coming back to those pesky stories of economic hardship.
The recession has put a damper on entrepreneurship and on the creative industry, and even on the promise of using the green movement as a way to pull ourselves out of the mess we're in.
Along comes people like Shaul Jolles, a Kansas Citian by way of Israel, and his partner Lawrencian Mike Edmondson—they've managed to blend enthusiasm for entrepreneurship, the environment, and sense of a community's creativity into a promising business despite the recession.
Jolles opened Officeport in the Crossroads District in February, followed last June by Javaport next door. Prior to the business' opening, Jolles—who has been a broker and developer in the Crossroads Arts district since 2003—had long taken an interest workers slogging away in coffee shops around town.
"For something like writing, [working in a coffee shop] is perfect, but if you want to collaborate with people—you don't even know you want to but you need to—then a coffee shop isn't going to work for you."
He imagined an inexpensive place where people could have access to state-of-the-art office technology, but most importantly, a place where those entrepreneurs, IT workers and designers could work around each other and feed off of each others' experience.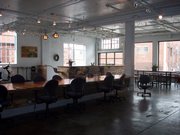 He says that, thanks to falling real estate prices, "the recession expedited the idea." Inexpensive office and work space could provide opportunities for tenants as well as for him in a real estate holding venture.
He acquired a property on 19th street in the Crossroads and converted part into an office incubator, a kind of bizarro cousin to the KC Arts Incubator, just a block away. Jolles charges $400 per month with no contract for each "port"—which includes T-1 internet, printing, phone, IT and business mentoring services from the Small Business and Technology Development Center at the University of Missouri-Kansas City. Within four months of opening it was full, and Jolles got to see his idea in action.
"Everyone has an office, but they end up in the kitchen to talk. The HR guy is using the web designer to create a site, and so on… It worked better than I imagined, and that caused me to move my business in here."
The site wasn't complete, though. Says Jolles, "What I saw in this economy is that $400 even for businesses is just too much money." He got to work on Officeport's neighbor, Javaport, and he now sees the two as inextricable. He looked to his neighborhood for the supplies, finding much of what he needed through one of his tenants, planetreuse.com.
"Everything you see in [Javaport] is from the Crossroads. All of the art, all the tables, the furniture, the coffee. What is not from here is because I could not find it here." The tables are made from reclaimed wood from Union Station, and a long coffee bar has been fashioned from planks off of a 125-year old barn. The mulch used in the planters comes from recycled tires, and the planters themselves are created out of old hardwood floors.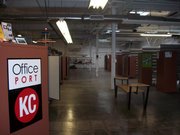 The unlimited coffee and the coffee bar itself come courtesy of The Roasterie, which is to Kansas City coffee as Boulevard is to Kansas City beer. The Roasterie's founder, Denny O'Neill, liked the place so much he even relocated his own office from just a few blocks away to become a part of what Jolles often refers to as his "think tank."
Despite that this venture is Jolles least-profitable business, he calls it his most satisfying: "Half the people in here worked for big corporations and got laid off. They're not in here bitching about a bad economy… They come here and they are inspired." Use of Javaport runs at $125 per month and includes the same amenities as Officeport, minus the reserved "port" space next door.
Jolles has a clear zeal for his neighborhood, and for his idea. He is already working on opening a 14,000 square-foot Officeport/Javaport location in downtown Chicago. While he believes that cities like Lawrence could potentially work, his business model focuses on cities with more depressed real estate markets.
Other cities, such as Austin and Seattle, are presenting possibilities for future openings, but he is committed to neighborhoods that are a part of a strong social community, like his Crossroads flagship.
"Local is what this economy and this world is going to. Global is great but not in all ways and it certainly isn't green."