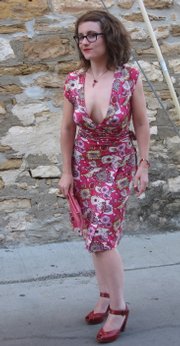 Holly Rowland
Age: 32.
Sign: Capricorn.
Hometown: Overland Park.
Time in Lawrence: Off and on for six years.
Occupation: Social worker.
What were you doing when scouted: Holly was nominated for Style Scout by Lawrence Journal-World reader Marian Hukle. Thanks for the tip, Marian!
Favorite fashion trends: I have a horrible addiction to American Apparel. I also am really into wearing black clothes with red accents, cocktail rings and big sunglasses. For men, I really like when they wear hoodies and short-sleeved T-shirts that are kind of snug.
Least favorite fashion trends: I'm not a fan of harem pants, or pants that are too tight and uncomfortable. I don't like maternity-style dresses for people that aren't pregnant, and I hope shoulder pads never come back into style.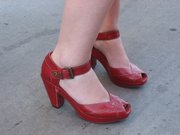 What would you like to see more of in Lawrence: I'd like to see more non-profit job opportunities, more local businesses downtown and maybe a roller skating rink.
What would you like to see less of in Lawrence: Less drum circles and less sub-par street performing. I'd also like to see less chain stores and less westward expansion.
Who are your fashion influences: Lately I've been influenced by the style of Joan and Betty on Mad Men, and I'm always influenced by the riot grrrl bands from the '90s. I also have been buying a lot of things off of Etsy.com and I'm usually into whatever Spool in Kansas City is selling.
What's the best part about your job? Honestly, being able to be on Mass. St and buy records on my lunch break.
People say I look like: When I was in college, I always was told I looked like the MTV VJ Kennedy, Lisa Loeb or Allison Wolfe from Bratmobile. I also get compared to Tina Fey and the cartoon character Daria.
What's your idea of a perfect day in Lawrence: A perfect day in Lawrence would include buying records and CDs at Love Garden and having a drink outside.
Tell us a secret: It's not really a secret I guess, but I have a serious record-buying addiction. I buy so many records that sometimes I buy the same one more than once, because I can't remember if I have it already or not.
Shoes: Frye, purchased at Habitat in KC a year ago for $160.
Dress: H&M;, purchased in Dublin 3 years ago for 30 euros.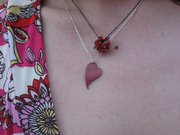 Bracelet: Gandmade and purchased at Radish Underground in Portland a month ago for $30.
Ring: Anthropologie, purchased 7 months ago for $100.
Necklaces: One necklace was purchased at Radish Underground for $30, the other is from a Kansas City art event and cost about $20.
Glasses: Paul Smith, purchased at Optical Innovations last August for an undisclosed price.