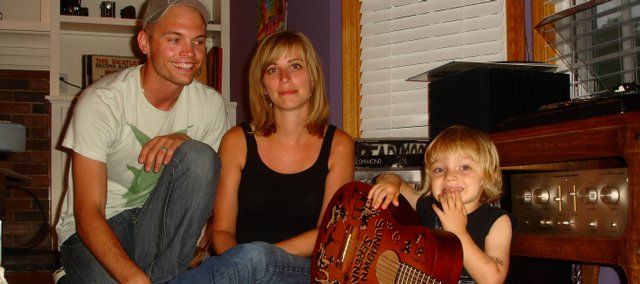 Past Event
Saturday, August 1, 2009, 10 p.m.
Jackpot Music Hall, 943 Mass., Lawrence
18+ / $5 - $7
It's called "the terrible twos" for plenty of reasons.
Last year, Josh Berwanger began to notice changes in the behavior of his 2-year-old son, Oliver.
"We were living in Lawrence last June, and we were noticing he was constantly peeing his pants. He was eating a ton, but then he'd be real lethargic. He was so up and down," Berwanger recalls. "We had no idea what was going on. We just thought he was being a normal 2-year-old."
A routine trip to the family physician resulted in an immediate detour to the emergency room, followed by a four-day stay in the hospital.
Oliver was diagnosed with type 1 diabetes.
Since then, "the terrible twos" have taken on a new meaning for Berwanger and wife Heidi-Lynne Gluck. Now needle doses and blood monitoring have become as normal to Ollie's day as naps and storytime.
In response, Berwanger is hoping to put his skills into helping crusade for a cure. A longtime member of the Lawrence music scene best known for fronting prominent bands such as The Anniversary and The Only Children, Berwanger is organizing a benefit Saturday for juvenile diabetes research. Joining his Only Children on stage will be Matt Pryor, former leader of The Get Up Kids and current force behind The New Amsterdams and — no kidding — The Terrible Twos.
"Matt was the first person I contacted because he's had type 1 diabetes for years," Berwanger explains.
This won't be Berwanger's only occasion to help the cause, however.
"I've vowed that anything I do musically from now on, the money will go to diabetes research to find a cure," he says. "All the money from shows, all the merchandise I sell — I'm not going to keep any profit."
Ever-changing levels
Type 1 diabetes results from the body's inability to create insulin, a hormone produced in the pancreas. All forms of diabetes have been treatable since insulin became medically obtainable in 1921, but there is no cure at present.
"The day-to-day tasks of caring for someone with diabetes are not all that difficult once you get the hang of it," explains Gluck, who also plays bass in The Only Children.
"Oliver offers his finger for blood tests — even in his sleep — 10 times a day. Josh and I are becoming whizzes at carb-counting and dosing him each time he eats. The difficult part is that a diabetic's levels are ever-changing, and the constant monitoring can never, ever stop. This leads to pretty heavy burnout when you have the pressure of keeping his levels in check."
Oddly enough, neither Gluck nor Berwanger could find a single member in their respective families who've suffered from diabetes.
Return to form
"We had a show booked at the Jackpot a year ago," Berwanger says. "Two days before that we found out Ollie had diabetes. Since then, I've just had no desire to do anything serious with music. But now I've got a couple labels interested. Heidi and I are going to make a (third) record, and everything after costs are covered is going into diabetes research."
The couple are mustering the widespread lineup of The Only Children, which includes drummer Christian Jankowski, now in Texas, and guitarist/organist Ricky Salthouse, now in Oklahoma. Also rumored to appear at the benefit is former Anniversary singer/keyboardist Adrianne Verhoeven, who may take the stage for a cover of one of the band's tracks.
Berwanger says he hopes to stage similar benefits twice a year: one in Lawrence and one in Kansas City. (He moved to Prairie Village last year after living on and off in Lawrence for a decade.)
For Gluck, these shows represent the only time she'll likely be found in front of a live audience.
"Honestly, I've had almost no urge to perform," says Gluck, a native of Canada who previously came to the states to play bass in the trio Some Girls alongside former alt-rock icon Juliana Hatfield.
"I will be happy performing pretty sporadically. I think my contribution to the cause will be getting involved directly with JDRF (Juvenile Diabetes Research Foundation) as a volunteer, and in the long-term becoming a board member."
Berwanger, on the other hand, is drawing musical inspiration from the challenges posed by his unforeseen family drama.
"There's nothing more I love than playing on stage, so I hope this sparks myself to finish a record," he says. "Having a cause to do it for makes me more assertive."