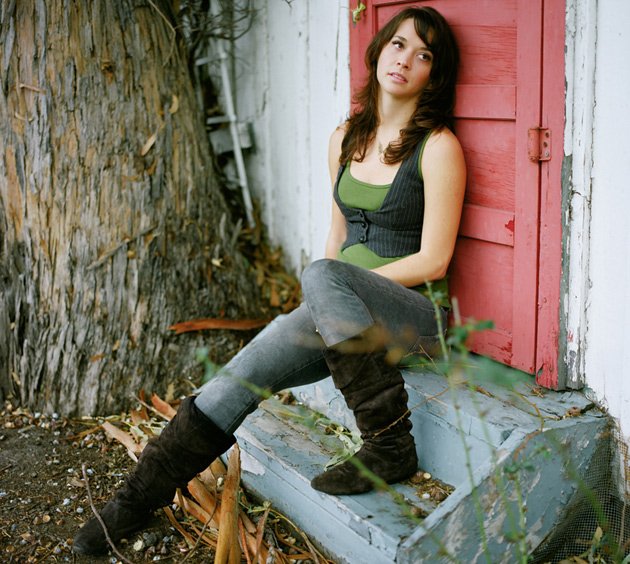 Here's what Lawrence native Lisa Donnelly has discovered about the Los Angeles music scene:
1. "It's a competitive, business-oriented city."
2. "It's nearly impossible to build a fan base."
3. "It can seem so lonely and dirty."
Past Event
Thursday, June 4, 2009, 8 p.m.
Granada, 1020 Mass., Lawrence
All ages / $8 - $10
Having moved to the West Coast in 2002 as a 22-year-old aspiring singer, Donnelly is finally seeing the toils of her battle against the L.A. music machine paying off. This week marks the release of her debut CD, "We Had a Thing." She'll celebrate with a hometown CD-release show Thursday.
"This is the first time in my career that I don't have a day job," Donnelly says.
The 10 songs on the disc reflect the dichotomy between emotive Kansas crooner and jaded L.A. scenester; between girl next door and "the next big thing."
Lyrically, topics range from backpacking with a troubadour through the streets of Spain ("Julian") to the sense of loneliness and isolation one experiences living in a big city ("Stuck in a Rut").
Donnelly hears the most feedback concerning the poppy lead track, "Laugh." It tells of an 83-year-old clairvoyant who deciphered her future at a dinner party.
"That song is a story. It's not about a personal experience where, 'I went through this breakup' or whatever. It's more that this woman came into my life and blew me away with her advice and energy. Her biggest advice is to laugh at it all. Life is tough, but you have to laugh at everything," she says.
Although not currently signed to a label, Donnelly now has some management muscle behind her. L.A.-based B-Team Media helped her hook up with producer Rob Giles (The Rescues), whom she credits with dramatically shaping her sound.
"Rob sat me down and asked the right questions: What are your favorite records and why? If you had five minutes to talk to the world, what would you say?," she recalls. (Her favorite record is "Rumours" by Fleetwood Mac, incidentally.)
"I think I actually started crying. I was like, 'I found my person!'"
Against better judgment
Originally more interested in pursuing acting than music, Donnelly graduated from Lawrence High School in 1997, earning Homecoming queen honors along the way.
She pursued degrees in both psychology and theater at Kansas University. Meanwhile, she started singing in Blue Condition, a Kansas City-based blues cover band.
"My parents started calling me the Lounge Lizard at age 19," she says.
While she had dabbled with penning poetry in high school, she didn't start putting the skill toward songwriting until the age of 21 when she fronted The Lisa Donnelly Project.
She says, "Learning to mesh my music with my words was a pretty powerful moment for me. It kind of made me go, 'Oh, this is where my gift is. This is what I'm supposed to do.'"
The next year she decided to move to Los Angeles "against all better judgment," based on advice from friends who had attended the Berklee College of Music and invited her to form a band.
Eventually, she began fronting the L.A. trio A.M. Pacific, which led to a heavy rotation in the Hollywood club scene characterized by venues such as The Roxy and The Viper Room.
"In Lawrence, I'd play three hours at The Jazzhaus, and we'd laugh, drink, dance, have a good time. And we'd usually get paid," she explains. "(In L.A.), even if you're bringing a lot of people in, you don't really get paid. It's more of a 50-minute set showcase. You're always trying to get music industry people to your shows (instead of) playing to build a fan base."
Donnelly admits there are often times when she pines for the comforts of home.
"I miss a sense of community," she says. "There are a lot of movers and shakers in Lawrence, but there is a sense of a relaxed enjoyment of life there. Not everything is for a purpose. In L.A., it's like, 'I'm doing this because of this.' In Lawrence, some people are just living."
Old soul
While Donnelly has taken the stage in acts ranging from R&B; to electronica, her unusual vocal tone remains her signature.
"A lot of people use the word 'strong' when they're talking about my voice," she says. "I'm not like a little 16-year-old pop star."
"The dynamic of her voice is so unique in that it has this older, bluesy, soulful, Billie Holiday-esque vibe to it," says Kevin Dobski, owner of B-Team Media.
Dobski also is a Lawrence High grad. But because he was a grade younger than Donnelly, he didn't really know her until they connected in L.A.
"I remember Lisa from Showtime (at LHS), and I remember the range and power in her voice," says Dobski, who's worked with artists such as A Perfect Circle and Rooney. "I went to see her live at the first couple shows she was playing with A.M. Pacific. Her performance and connection she had with the audience really captivated me."
Donnelly is pleased "We Had a Thing" will offer her the chance to connect with audiences outside of Lawrence and Los Angeles. Whatever the reaction, she is confident in her material.
"This is my first solo record. I'm putting out my name with my feelings and personality," she says. "So some people are going to come at you and tell you amazing things; others are going to come out and bag on you. If you don't have a strong sense of self, then you'll be destroyed."