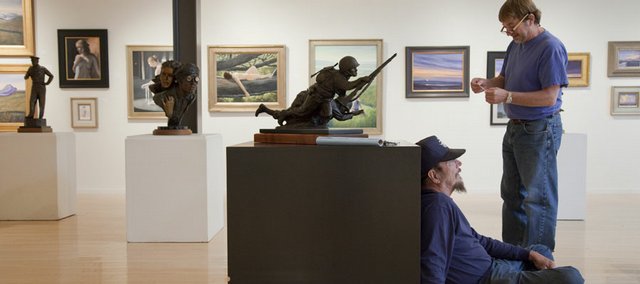 Lawrence-area sculptor Jim Brothers has a significant amount of time and energy invested in the National D-Day Memorial in Bedford, Va. Brothers has worked on more than a dozen sculptures at the memorial honoring the 1944 invasion of Normandy, France, by Allied Forces in World War II.
So news that financial difficulties for the foundation that runs the memorial could force its closure came as a shock to Brothers as the 65th anniversary of D-Day approaches.
"I just heard about it," said Brothers, whose other work includes sculptures at the National VFW Memorial in Washington, D.C., as well as monuments for several major U.S. cities.
"I'm still pretty numb."
Tough economic times and a decline in visitors to the memorial are placing its long-term survival at risk. The only hope of the memorial remaining open may be to turn it over to a governmental agency such as the National Park Service, said foundation President William McIntosh.
"All institutions are in various states of privatization of one kind or another," McIntosh said. "Everybody's endowment has been slapped around pretty badly by the economy."
McIntosh said that in the short term, layoffs and reduced hours will be needed at the memorial, which is about 230 miles southwest of Washington, D.C.
The yearly expenses for the memorial are more than $2 million, but revenues from visitors total only $600,000.
Brothers said he is hopeful the memorial will remain open, regardless of which organization controls it.
While Brothers has already been paid for his work on the memorial, he's concerned about the possible effects of a potential closure on his personal legacy as an artist, as well as the broader implications on history.
"Every artist wants their life to mean something," said Brothers of his work at the memorial. "We need to leave something to let them know what happened."
Closure of the memorial, he said, "… will make it look like we didn't care."
More like this story on Lawrence.com