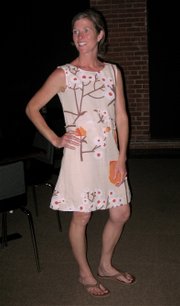 Name: Alix Stephan
Age: 35
Sign: Capricorn
Hometown: Chicago
Time in Lawrence: On and off for 17 years.
Occupation? Clothing designer and manufacturer of the Crab Cakes clothing line, and mother of two.
Favorite places? Blue Dandelion, Henry's upstairs, the train park, my front yard, La Tropicana, and Sarah's Fabric Store.
How would you describe your style? I make most of my own clothing, and I'm usually inspired by unique fabrics and textures.
Favorite trends? Anything that artfully clashes, lots and lots of layers, and knee highs.
Least favorite? Low rider/saggy pants, tight-rolled jeans, and harem pants.
Favorite Lawrence activities with the kids? We go to the skate park because my three-year old loves to skateboard. In the summer, we go to the pool a lot and eat tons of ice cream at Sylas & Maddy's.
What would you like to see more of in Lawrence? Block parties and more children's re-sale clothing stores.
What would you like to see less of in Lawrence? Pot holes, squirrels, and pigeons.
Who are your fashion influences? My mom, back in the day with her beehive hairdo and short A-line dresses.
Tell us a secret: My sister is the executive producer of Project Runway and Top Chef.
PRICE OF CLOTHING:
Shoes: American Eagle, purchased last summer for $22.
Dress: A Crab Cakes original, I made it myself out of a bedspread from Urban Outfitters, about a year and a half ago, for about $20.
Necklace: Also self-made, the two hearts represent my kids. I made it during spring break 2009.
Cocktail ring: It was a gift, and was purchased at Goldmakers about 4 1/2 years ago. 
More like this story on Lawrence.com