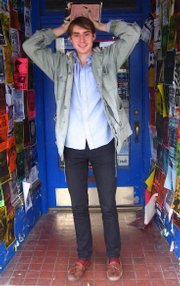 Name: Brock Potucek
Age: 23
Sign: Leo; Moon in Gemini; Scorpio Rising
Hometown: Hutchinson, KS
Time in Lawrence: On and off for five years.
Occupation: Tap Room employee, Chomp Womp womp and chomp, bass player/songwriter in Fortuning, stage crew for the Ssion, writer for the LA Record.
What were you doing when scouted? I was reading "The Writings of Robert Motherwell" by Nicholson Baker at Aimee's.
Favorite places? The Spencer Museum, Dunkin Donuts, the Tap Room, the Pig, and Wonder Fair.
How would you describe your style? It depends on my mood. I try to keep it original, honest, and quirky. 
Where do you get your hair cut? I cut it myself.
Favorite trends? The regurgitation of '90s style. I'm really liking the Madchester look, as well as the 90210/Blossom trend. Overall, I think everyone should do their own thing.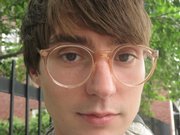 Least Favorite trends? Big screen-printed shirts and lack of confidence.
Tattoos/piercings? I have a tattoo that I gave to myself when I was fifteen. It's a consolidated skateboard symbol.
Favorite coffee shop? Dunkin Donuts, because it's not on Mass. St, they have WiFi, cheap drinks, and I don't have to say "hi" to fifteen people while I'm there.
Favorite bar? My favorite bars are The Ship in the West Bottoms and Chez Charlie's in Midtown Kansas City because I think they have a lot of character, but of course in Lawrence, my favorite bar is the Tap Room.
What would you like to see more of in Lawrence? More people, more flava, and more career opportunities.
What would you like to see less of in Lawrence? Drunks. Drunk Drivers. Drunk dialing, and whining. 
Who are your fashion influences? John Connor in Terminator 2, Johnny Rotten, Jarvis Cocker, Andre Breton, and the lead singer of Belle & Sebastian.
People say I look like? When I have short hair, Sinead O'Connor, and when I have longer hair I get Klaus Naomi, Paul Weller, and Clark Kent.
Tell us a secret: The world is as you take it.
PRICE OF CLOTHING:
Shoes: Giorgio Brutini, purchased at the Social Service League, 3 months ago for $1.
Pants: Levis, purchased at Urban Outfitters, 4 months ago for $40.
Shirt: Lands End, purchased at the Goodwill, 3 months ago for $6.
Coat: A Military coat that I found in a dumpster about 7 years ago.
Glasses: From my uncle, the lenses are from Crandon & Crandon.
Belt: From Matt Fishbeck, about 1 year ago.
More like this story on Lawrence.com