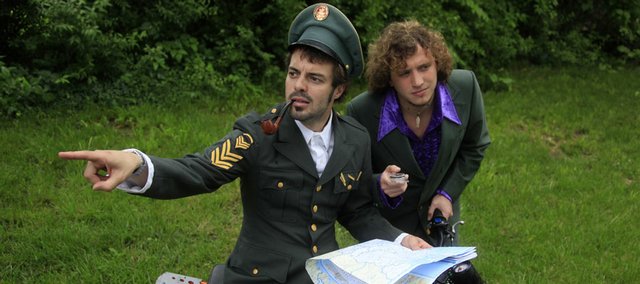 Past Event
Sunday, June 14, 2009, 7 p.m.
Granada, 1020 Mass., Lawrence
18+ / $8
Mongol Rally 2009
• A 10,000-mile automobile trip leaving from either London, Barcelona or Milan to Ulaan Bataar, Mongolia.
• The rally, in its fifth year, has more than 500 teams registered to depart July 17.
• Each team must pay an entrance fee of $1,300, plus raise $2,000 for charity.
• Teams are responsible for obtaining cars, which must have engines smaller than 1.2 liters, and modifying them for the trip. The cars are sold after the rally and the money is donated to charity.
• No GPS or other electronic mapping devices are allowed.
• Once the race begins, teams are on their own.
• For more information about the rally, visit the Team Flatlanders' Web site .
After earning his degree from Kansas University in May, Lawrence native Andrew Schmidt wasn't ready to join his fellow graduates in sending out résumés to potential employers.
Instead, going on the road with childhood friend Mike Gaus seemed like a reasonable idea. But Schmidt and Gaus, both 23, will be taking the idea of a summer road trip to the extreme next month by driving 10,000 miles through 25 countries as part of Mongol Rally 2009.
Schmidt and Gaus, known as "Team Flatlanders" in honor of their Kansas roots, will join more than 500 other teams in the international rally to Mongolia that is part adventure, part extreme sport and part charity fundraiser.
The goal is simple: Drive a car with an engine smaller than 1.2 liters -- smaller than a Mini Cooper -- from one of three sites in Europe to the Mongolian capital of Ulaan Baatar. The catch? Participants can't use electronic mapping devices and they will receive no assistance from rally officials once the rally begins. The drive is roughly expected to take four to six weeks.
"It's all on your own," Schmidt said of their route, which is tentatively planned to run through Croatia, Turkey, Russia and Kazakhstan, among other countries. "(You're) just supposed to ask people."
The rally has dramatically grown in popularity since its inaugural event in 2004, which featured only six teams.
Preparations for the rally began months ago, as the team began holding "charity keggers" in Lawrence. Rally teams are required to raise at least $2,000 for one of several charities, and the car used in the event will be donated after the rally. Team Flatlanders selected Mercy Corps Mongolia, an organization that provides educational, economic and agricultural assistance to rural communities in Mongolia. The team will hold a final fundraiser June 14 at the Granada, 1020 Mass.
Aside from raising money for a good cause, the motivation for the trip is simply adventure, Gaus said.
"Putting myself completely into the unknown and seeing what happens. This is what gives me passion in life, what makes me want to see more," said Gaus, who had until recently been working in Australia as a scuba instructor.
Schmidt, who first heard about the rally during a trip to Russia, had an easy time convincing Gaus to join him. Once he called Gaus and told him about the trip, Gaus changed his travel plans within a day and turned down two jobs to come along.
"I couldn't pass it up — once in a lifetime chance," Gaus said.
Team Flatlanders will begin the adventure June 16 by flying to Scotland, where they will buy and modify a car for the trip. They will then take a boat to mainland Europe, drive to Barcelona, and leave for Mongolia on July 19.
Video clips on the Internet from past Mongol Rallies show participants meeting new people, driving up seemingly impossible inclines, and improvising in various ways to get to the destination.
Gaus and Schmidt are aware of the risks, such as breaking down in an unfamiliar desert and traveling through politically unstable countries. The Mongol Rally Web site warns participants: "Your chance of dying can be very high, some past teams have been seriously injured."
And of course, any risk is enough to worry their moms, who have lived across the street from each other for the past 10 years.
"I wish he wasn't going. ... I'm pretty nervous about it," said Mike's mom, Gail. But she said that their family had traveled a lot through the years, and she knew Mike had a wanderer's spirit.
Loreta Schmidt, Andrew's mom, said she had concerns about the trip as well, but she's confident the well-traveled duo will make it safely to Mongolia.
"I think they can do anything," she said.
For her son, it was simply something he couldn't pass up, despite the risks.
"It's important to fill your bucket list early before you lose the opportunity. And I think this is one of those opportunities," he said.