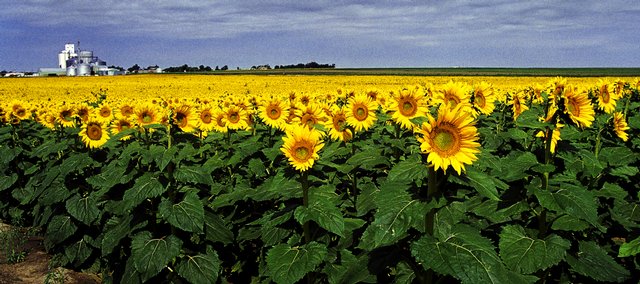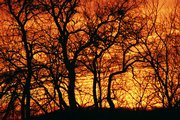 Carolyn Young was making the arduous drive back to Kansas from Colorado, and she was not happy about it.
"I was cursing and swearing, 'Why do I leave that majestic beauty?,'" Young says.
But suddenly, a sight caught her photographer's eye, and she spontaneously pulled onto the side of Interstate 70, grabbed her tripod and ran up a hill. A police officer witnessed the event and pursued.
"I heard, 'Hey, you can't do that! You can't just pull off the road carelessly,'" she recalls. "So I said, 'But officer, what you don't understand is that I'm a photographer, and for me this is an emergency.'"
Fortuitously, the officer agreed. They had stopped in front of a particularly eye-catching patch of sunflowers. And though he approved of the setting, the officer suggested Young get off at the next exit of Ruleton, where there was an even more spectacular field.
Young's resulting photo, titled, "Returning to Kansas," has become one of her signature pieces.
That Kansas brand of "majestic beauty" is now being seen internationally, thanks to a showcase of her photos taking place in Lawrence's sister city of Eutin, Germany.
"I love to do close-ups. I love nature and landscapes. One of my favorite places to be is in the Flint Hills and the Konza because there are such good hiking trails there," she says.
Although the Chicago-area native had previously lived in Germany, she was unable to attend the show's May 30 opening. (It runs through June 23.) But her bold colors and stark contrasts have apparently gone over well with the locals.
"It's a very attractive way of showing what Kansas is about," says Frank Baron, a Kansas University professor in Germanic languages/literatures.
Baron is currently traveling in Germany and was able to view Young's exhibit. He says the work is being displayed in a "nice exhibition area" in the Eutin Regional Library.
"We had a chance to walk around and see these beautiful photographs of the Lawrence vicinity," Baron says. "Each one of these is like a work of art. It's not just the sake of showing the land. But it's the way the sun shines, the combination of colors. They're really fantastic photographs."
Art everywhere
Baron had previously brought a group of Eutin residents to see Young's work at the Lawrence ArtWalk, which is where the idea for the show originated.
"Frank asked if I would like to do a show with some small works: matted 12-by-16. He said he could take them in his suitcase," says Young, a Lawrence resident since 1969. "I thought it sounded like an easy thing and a great opportunity. Then he spoke with the curator over there, and she wanted much larger work. So very suddenly it snowballed."
Eventually, she exported nearly 50 of her photos, some as large as 20-by-30.
Baron has proven instrumental in fostering the artistic exchange between Lawrence and Eutin. This formally began during the 15-year anniversary of the sister city program by showcasing the art of Nancy Bjorge. Now during his current trip, Baron says he noticed all kinds of paintings and art prominently displayed throughout Eutin by Lawrence artists.
Back and forth
Young's contribution is just one of many artistic exchanges to take place this year between the cities.
A contingent of Kansans went to Eutin this month to celebrate the 20th anniversary of its sister city connection. (Lawrence also enjoys a similar relationship with Hiratsuka, Japan.) The Lawrence Guitar Quartet is currently touring Eutin and other German cities through June 22. And the Eutin Guitar Orchestra will return the favor when it comes to Kansas in October.
Baron, who's spent 14 summers in Eutin, says the cultural exchange was established in 1966 when KU students began spending semesters there. Since then, hundreds of students have taken part in the program.
"This morning I was walking in from the train station in Berlin, and somebody called my name. It turned out to be one of these exchange students," Baron says.
In 1990, Lawrence High School first took part in a program in which six Lawrence students would go to Eutin and live with the families of high schoolers who would later come to America and trade hosting chores.
"You really have an intensive foreign experience that's so different from tourism. In this case you have people actually getting to know families abroad. It's a totally different kind of experience," Baron says.
"It's a new way of looking at society and your own world."