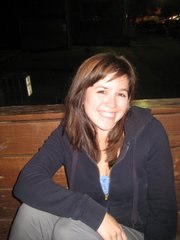 Amy Connoly, student, likes music, walking, and baking
How do you save money?
"I try not to look at how much I have. I just put it into the bank and don't think about how much money I have to spend. It could be a recipe for disaster if you go the other way and start spending without knowing how much you have. I generally just carry around twenty bucks in cash and limit myself to spending within that twenty bucks. So if I have to opt for the $5 item instead of the $10 item to stay within my limit, then that's what I have to do. If I go out, I like to go the Eldridge on Thursdays for half price martinis. It's nice. There are also pretty cheap margaritas at Carlos O'Kelly's on Wednesdays. And Mondays are cheap beers at Free State. My cheesy advice to get through these tough economic times is to just be content with what you have. Make do."
How do you splurge?
"I'll take my friends out and buy them drinks and have a good time. I really do like to get my friends drunk. I also like earrings. I went travelling recently and bought a lot earrings. I tried to hide them from people because I got embarrassed for having bought yet another pair of earrings. Last pair I bought were these really cool metal ones with pink squares and dangly beads. I got them in Greece."
More like this story on Lawrence.com