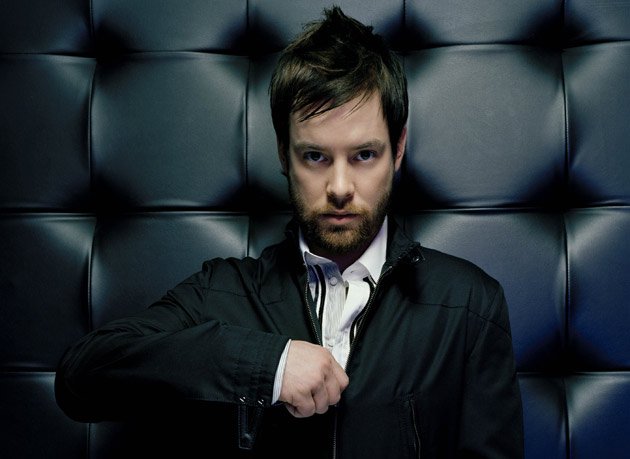 Podcast episode
"American Idol" winner David Cook comes home to his old stomping grounds in Kansas City for a performance at Red, White & Boom. He joined us for a discussion about his post-"Idol" career, life as a reality TV star, and Jägerbombs.
How exactly do you move on with life after winning "American Idol"?
It's a question David Cook is still grappling with more than a year after his victory on the reality television behemoth in 2008. This Blue Springs-boy-made-good continues to ride the wave, currently touring in support of his platinum-selling self-titled album.
It's been a tough year for Cook, whose brother Adam died last month after a decade-long battle with brain cancer, but he continues to forge onward with his post-"Idol" career.
The 26-year-old rocker ignores questions of credibility due to his rapid ascent to stardom via the pre-fab pop machine that is "American Idol" and focuses as best he can on his music, often under the less-than-flattering spotlight of tabloid and celebrity media. In anticipation of his homecoming show in the Kansas City area, David Cook joined us to discuss life after "Idol."
Past Event
Saturday, June 20, 2009, 3 p.m.
Capitol Federal Park @ Sandstone, 633 N. 130th St., Bonner Springs, KS
All ages / $18.75 - $35
No-fi highlights from the podcast
lawrence.com: How's touring the country?
David Cook: The tour's going great, man. We're playing in front of some fantastic crowds, getting tighter as a band and moving forward.
Did you ever have a chance to make it over to Lawrence when you lived in Blue Springs?
Yeah, I've been to Lawrence a few times. I played shows at Abe & Jake's and The Bottleneck. I actually remember going to a frat house in Lawrence once and helping some of my friends with tech.
So the "Idol" crown has been passed to Kris Allen. Can you stop being "David Cook, American Idol" and just be "David Cook" now? Or are you forever associated with that show?
I imagine I probably could stop being associated with it, but I don't know if I necessarily want to. The platform "Idol" has given me is amazing. To disconnect from that seems the opposite of beneficial for me. I'm hoping to have a career-long relationship with that show.
Since you've passed through the crucible of "American Idol," what advice do you have for Kris Allen?
I had a chance to talk to Kris before the finale and a little bit afterward. I told him that, at least from my experience, it's going to be quite the task to try and find sleep. Past that, he should just take the time to try and take a mental snapshot and take stock of where he is in life, because it's about to get nuts.
Have you yourself had the chance to take stock of what's happened in the span of just a year?
(laughs) No, and that's why I offered that advice. After the show, I decided I was going to work until I couldn't anymore. I got off the show, went on tour and started working on the record. I'm looking forward to having a few weeks off so I can finally take stock of where I am.
David Cook lawrence.com Radio Station ID "Suck It Up Chuleta" (Click to listen. To download: right click + "save link as")
Have you had time to reflect on your status in the media? Does it bother you that you're sometimes considered to be a reality TV star on par with the cast of "The Hills"?
(laughs) You know what? It doesn't bother me that much. I learned early that everybody's going to try to put you in a box your whole life, and it's just a matter of if you're going to let them. People can think I'm a musician, or a reality TV star or a whatever-as long as they're thinking of me, I guess.
You obviously have a sense of humor about it. Hats off to you for making an appearance on "Best Week Ever" and poking fun at your hair.
Thank you. Somewhere in the range of 95 to 97 percent of all this is so absurd, you know? I constantly get amusement out of getting on a news Web site and reading about, rather than the national economic crisis, who some social debutante is dating or who they made out with. The priorities seem a bit skewed. I just want to make good music and play good shows and let everything else fall where it falls.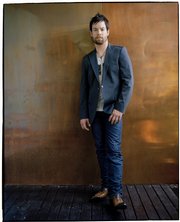 Who are some of your musical influences?
Bands like Our Lady Peace, Pearl Jam and Big Wreck. Bands that are rock bands but, to me, have found a niche or a sound or a vibe nobody else has pegged. That's the kind of artist I want to be. I want to be an artist that, 20 years down the line, maybe you can't find another artist who sounds like me. That would be ideal for me.
Since you were thrust into the spotlight at such an accelerated rate, are you concerned the expectations for your music are skewed?
I've never been concerned with other peoples' expectations. Given the avenue that I took to get here, I know that seems kind of strange. The way I look at it, nobody's expectations are going to exceed my own. That's all I'm really worried about.
What are you listening to these days?
I've been listening to a lot of SafetySuit lately. Just the other day, I found a band on iTunes called Crash Kings I really like. I kind of rely on the front page of iTunes to find new stuff. That's a good plug, right? I'm not one of the few people using a Zune.
Being a former bartender, what's your cocktail of choice?
Jägerbombs. I know it's not really a cocktail, but it works for me. I'm kind of a lightweight. In my heyday, I could get through five in one night, but my tolerance has gone way down. Now I usually have two and I'm enjoying the evening.
It's more economical that way.
Well, we are in a recession.
More like this story on Lawrence.com