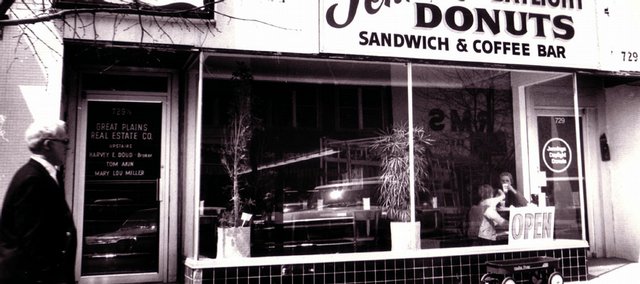 Photo Gallery
The history of Downtown Lawrence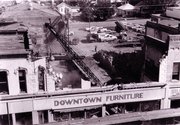 It's 5 p.m. on a Wednesday, nearly closing time for Rod Ernst.
He sits in his hardware shop near the putty knives, arms folded. Not too long ago, tool shops dominated downtown, he says. Now, Ernst & Son is the district's sole tackle cache.
"Used to be one on every corner," he says, rocking in his chair. "They're all gone."
Even though locally owned boutiques and eateries still reign downtown, the area often changes. The hardware stores, five-and-dimes and shoe shops of yore have been replaced by … well, everything you see today.
Locals have their explanations for Massachusetts Street's ongoing metamorphosis: the economy, retiring store owners, or the suburbanization of the city. Perhaps the best way to understand how time can change a neighborhood is by looking at the scenery and shops that once defined the cityscape.
Lawrence, Kan., 1959: the Masonic Temple didn't have its doors nailed shut, K-10 wasn't a freeway and city commissioners convened at what is now Watkins Community Museum. One bridge spanned the Kansas River; there was no parking garage.
Helen Krische remembers the era well.
Krische, an archivist at the community museum, moved to Lawrence in 1961 as an 11-year-old who crossed the Kansas-Missouri border. At that point, she says, Vermont and New Hampshire streets weren't developed. The Granada, adorned with lush velvet seats and curtains, showed classics such as "Carnival of Souls." A set of grain elevators loomed at Sixth and Massachusetts, across Sixth from where City Hall stands today.
"It was the old cliché, 'a simpler time.' Things were a lot more accessible," Krische says.
She recalls walking along Mass. Street, then a treeless avenue, and buying a Coca-Cola or Beatles album at one of the many five-and-dimes. But after the retail shops closed for the evening, downtown would clear out.
Nightlife
The nightlife aspect of Lawrence didn't really come around until the 1980s, when Bob Schumm says Lawrence tried to turn itself into a "24-hour-city."
Schumm has served on development committees and owned several restaurant enterprises downtown since 1970. The "entertainment" theme of Lawrence, he says, was suggested by a consultant in the '80s. The idea was to bring people downtown every hour of the day.
Retail stores were already attracting the 8 a.m. to 5 p.m. crowd. The next step was bringing people to the district with bars and restaurants.
"I've seen a lot of change, really," he says. When he first started business, only a handful of restaurants existed on Mass. Street. Maybe one per block, he says.
"By last count, there's 42 restaurants downtown," he says.
But the restaurant inundation of the past quarter-century hasn't stolen downtown's distinct feel, says Judy Billings of the Lawrence Convention & Visitors Bureau.
"There's a flutter about retail businesses turning into restaurants and that this is beginning to become an entertainment district," says Billings, director of the bureau. "That's true, but I know bars and restaurants that have converted back to retail space.
"People are in the moment and they forget the history. It's not a cookie-cutter, it's not full of franchises."
Instead, Billings says, the area is as authentic, eclectic and historic as can be. Such aspects draw both locals and tourists to the area.
But despite plenty of commerce, things change, she says.
"As long as I've lived here, we've always talked about how fragile our downtown is. Fragility has to do with those mom-and-pop businesses," Billings says. "Things change, and they continue to change. Yet when you see an Arensberg's close, everybody gets all upset."
End of era
Long considered a staple of the downtown retail scene, Jack Arensberg sold shoes in Lawrence from 1958 until early this year. At one point, he says, there were at least five shoe shops in the 800 block of Massachusetts alone.
"This used to be where everybody got everything," he says.
He thinks back to how the other shops closed: one was bought out, another store's owner retired, another simply flopped. And after 50 years of business, Arensberg also decided to call it quits.
"I'm 81. I don't want to do it anymore," he jokes. "All of my friends have been retired for 15 years. I'm ready to join them."
Across the street from the old Arensberg store is Ernst & Son, where Rod Ernst sits and brushes a hand over the stain on his right pant leg. Miles Davis plays on the shop stereo. Things used to be different around here, he explains.
"The mix is changing," he says. He takes a somber approach to his shop's eventual fate. After he retires, business at Ernst & Son will likely be done.
"Like so many businesses downtown," he says. "That'll be the end of it."