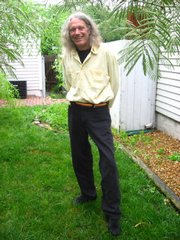 Name: Tim Gillesse, a.k.a. Timbabwe
Age: 59
Sign: Scorpio
Hometown: East Lawrence
Occupation: Renaissance Technocrat/Quantum Cosmologist
What were you doing when scouted: I was hanging out at Free State (Brewing Co.) after learning that a reggae concert in Kansas City had been canceled.
How would you describe your style: Marginally eclectic and pseudo-bohemian.
What makes you happy: Sittin' on a white sand beach and listening to the rustle of the surf all day, and the harmony of nature.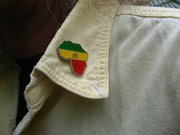 Favorite fashion trends: Cotton, linens and loose and comfortable fabrics. Rasta belts. Comfortable shoes like Tevas, Merrell's, and rope shoes. I believe that feet need to be out and not confined.
Least favorite fashion trends: Spandex and bike helmets, and synthetic fabrics.
Favorite things about Lawrence: I love the topography in Lawrence and the textures of the land. There is also a great diversity of architecture — 200 years of different styles of homes. The people in Lawrence are not just your average Joes. There are a lot of smart cats and kitties.
Least favorite things about Lawrence: Roundabouts are a waste of money. Without roundabouts, we could pay for all of the other projects that need taken care of around town.
Who are your influences: Linus Pauling, Carl Sagan, Werner Heisenberg, Marshall McLuhan, Robert Nesta Marley and Haile Selassie.
What is your philosophy: You gotta learn everything about everything. Or as Yogi Bear said, you gotta be smarter than the average bear.
PRICE OF CLOTHING:
Shoes: Merrell, purchased at the Sierra Trading Post, 5 years ago for $20.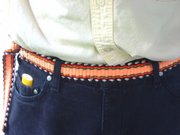 Pants: Silver Tab painters pants, purchased at JC Penney, 4 years ago for $36.
Jacket: Homemade, I've had it for 20 years. It was a gift from a friend.
Shirt: Banana Republic. I have one in every color. Purchased 10 years ago for $20.
Pin: Purchased at a city market in Montego Bay, Jamaica, about 20 years ago. It cost $3.
Belt: From Jamaica. Also purchased around 20 years ago for $6.
More like this story on Lawrence.com